Boston Theater Works will present the third main stage production of its eighth season with "The Sweetest Swing In Baseball," by Pulitzer Prize-nominated author Rebecca Gilman. Directed by BTW founder Jason Southerland, the East coast premiere of "The Sweetest Swing In Baseball" opens at the Boston Center for the Arts Plaza Theatre on April 13 for a run through May 6.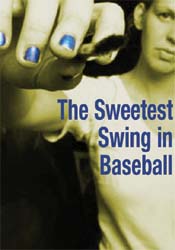 Fresh off their critically-acclaimed production of the classic Shakespearean tragedy "Othello," BTW moves to the modern world of celebrated painter Dana Fielding, the toast of the contemporary art world. After her new exhibition tanks and her boyfriend dumps her, she winds up in a psychiatric hospital where she finds inspiration from an unlikely source -- the legendary bad boy of baseball, Darryl Strawberry.
Described by The Hollywood Reporter as "deliciously subversive," "The Sweetest Swing In Baseball" takes a funny and caustic look at the pressures of success and the need to create a protective "other self" to survive life in the spotlight.
Of the play's London debut at the Royal Court Theatre, The Guardian commented "Gilman is tackling the commercialism of everything from art to baseball, in which middlemen determine individual value."
One of America's most talked-about and sought-after playwrights, Gilman's previous work include "The Glory Of Living" (a dark and intensely violent play about a Texan teenage murderess who picks up vagrant girls for her boyfriend's sexual kicks) nominated for a Pulitzer Prize in 1992; "Boy Gets Girl" (Gilman's thriller about a blind date turned terribly wrong); and "Spinning Into Butter" (the controversial play about racial issues on a college campus, which has been made into a film starring Sarah Jessica Parker).
She was the first American to win the George Devine and Evening Standard Awards for Most Promising Playwright (1999). She was also resident writer at Chicago Dramatists, an incubator of young playwrights.
BTW's production of "The Sweetest Swing In Baseball" features return performances by Chris Brophy (Shane Mungitt in 2005's "Take Me Out") and Maureen Keiller (the divine diva of last Fall's "Pulp"). Making her BTW debut, Sara Newhouse (who has performed with ART, Public Theatre, Lyric Stage and is a founding member of Actor's Shakespeare Project) stars as the troubled artist, Dana Fielding.
BTW presents socially relevant classical and contemporary productions with a commitment to expanding Boston's theater-going audience and redefining the theater experience. Boston Theatre Works produces Boston premieres by known playwrights, develops/commissions new plays by emerging playwrights and pursues community education/outreach wherever possible. Over the years, BTW has earned 5 Elliot Norton awards, produced 12 regional premieres, and 4 BTW main stage plays have moved to Off-Broadway productions.
For tickets and information, call 617-933-8600, stop by the Calderwood Pavilion Box Office at 571 Tremont Street or visit www.bostontheatrescene.com.
-- OnStage Boston