A Review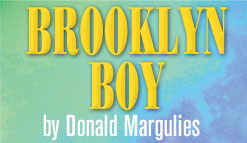 Crossing Bridges
By R. J. Donovan
Eric Weiss is in a bit of a quandary. He's rejected his Jewish upbringing only to take full advantage of its finer points to craft a best selling novel.
"Brooklyn Boy," the name of the play as well as the novel within the play at SpeakEasy Stage, is a thoughtfully fashioned two hours in the theater, even if playwright Donald Margulies doesn't really take us down any new avenues.
Eric Weiss has tried his hand at publishing. But doing it his way, creatively, has met with little success. When he fictionalizes the facts of his own boyhood in Brooklyn, he comes up with a semi-autobiographical hit. However, the life that he led is the life that he's running from.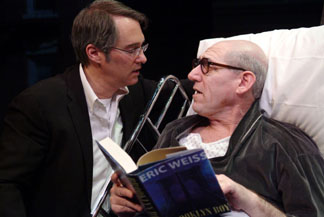 Eric (Victor Warren, left with David Kristin) returns to his Brooklyn home and roots when his father is dying from cancer.
He's the successful writer, he's on the best seller list, and he's even been chatting with Katie Couric on "The Today Show." But his father sees only the boy who was never good enough. (To be fair, in the father's mind, nothing has ever been right or good enough. He's the original noodge.)
In stark contrast, Eric later runs into Ira Zimmer (Ken Baltin), a boyhood friend who has followed his writing career closely. So closely, in fact, that, despite the passage of time, he treats Eric like family, gushes over his work and praises him to no end. Yet Eric has no time for him. Baltin is wonderfully smothering as the guy who's never let go of the past.
Each act is broken into three scenes. The dynamic of each scene is interesting as Eric interacts with individual members of different generations. From his father to his pal from the old days, to the spacey young girl he picks up at a book reading, he's seen in a variety of situations. Sadly, he really doesn't fit into any of them. Plus, he's divorcing his wife. So here's the big time writer who's finally got the professional success that's eluded him, but his personal life is in so many tatters, he can't sit back and enjoy it.
One of the high points is Eric's meeting with the Hollywood producer who's bought the rights to his novel. Playing Melanie Fine, Ellen Colton is a hoot as the pandering, patronizing La-La Land gal who simply adoooooores the project -- but needs to change everything, including the Jewishness, to make it work. Jewish herself, she explains an audience's resistence to Jews in books vs. on film by spouting "imagining Jews is much easier than actually seeing them."
As Eric, Victor Warren's endearing performance is thoroughly enjoyable to watch. At the same time, despite Baltin's really wonderful creation of Zimmer, you would never guess he and Eric to be the same age.
In the end, Eric comes to terms with some of the complexities of his life. No new doors are opened, but the evening still has enough to offer. And special kudos go to Audrey Avery for her stylized urban set, which offers a nice surprise late in the show.
The SpeakEasy Stage Company production of "Brooklyn Boy" is at Calderwood Pavilion at the Boston Center for the Arts, 527 Tremont Street in Boston, through April 1. For information, call 617-933-8600.
Production Photos: Craig Bailey / Perspective Photo
-- OnStage Boston
03/08/06