Noted stage and screen star Carolyn McCormick will be featured in a reading of Tennessee Williams' "The Night of the Iguana" on Monday, March 13 at 7:00 p.m., at The Shubert Theatre. The reading will conclude the third annual American Voices: Drama, Dialogue, Downtown play reading series presented by The Wang Center for the Performing Arts and the Poduska Family Foundation. The performance will be followed by a short question and answer session.
"The Night of the Iguana" tells the story of Reverend T. Lawrence Shannon, a defrocked priest who has been making a living conducting tours in Mexico. After deflowering an eighteen-year-old woman on a tour with a Baptist Choral Ensemble, Reverend Shannon seeks advice from a long-time friend at his resort. The series of events that follow unearth the sexual taboos of human interaction and the underlying meaning of affection and love.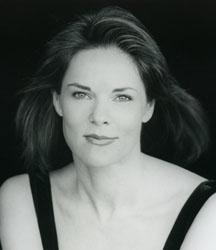 Best known as Dr. Elizabeth Olivet in "Law and Order," Carolyn McCormick has appeared on Broadway in "Private Lives" and "The Dinner Party" and Off-Broadway in "The Pinter Plays," "Privilege," "EVE-olution," "Dinner with Friends," "Oedipus," "Ancestral Voices," "The Donahue Sisters," "Laureen's Whereabouts" and "In Perpetuity."
In addition to "Law and Order," McCormick's television credits include "Judging Amy," "The Practice," and "Homicide." Film credits include "A Simple Twist of Fate", "Enemy Mine," "Rain Without Thunder" and "You Know My Name, Loverboy."
Director Steven Maler is the founding Artistic Director of Commonwealth Shakespeare Company (CSC) and VP of Artistic Programming at The Wang Center for the Performing Arts.
Audience members who attend "The Night of the Iguana" are invited to register for free acting workshops held the Tuesday and Wednesday evenings following the play reading, presented by The Wang Center's Education Department, Suskind Young At Arts.
The acting workshops are led by professional actors and directors, and are open to participants of all acting abilities 14 years and older. Participants will experience intensive acting exercises while doing scene work from the play. Registration is first-come, first-served and will be held during intermission at the "The Night of the Iguana" reading. Participants must attend the play reading to register; advance registration is not available.
For tickets and information, stop by the Shubert box office at 265 Tremont Street, call 800-447-7400 or visit www.wangcenter.org.
-- OnStage Boston