The Huntington Theatre Company's 2006 Breaking Ground Festival of New Play Readings, running April 6-9 at the Stanford Calderwood Pavilion at the Boston Center for the Arts, includes the debut of a new musical based on the 1949 film, "Kind Hearts and Coronets," and two in-development projects by lauded playwrights Theresa Rebeck and Noah Haidle.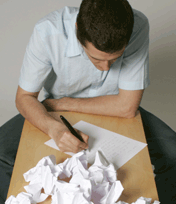 Huntington Literary Manager Ilana Brownstein says the plays and authors chosen this year will benefit from the working environment of the festival. "Only after a playwright hears text read by actors—in front of an audience—can he or she then begin to really discover what's there, and pare down, rewrite, or reconfigure the work," Brownstein says. "Breaking Ground gives these talented writers the best possible environment in which to develop their plays."


The plays, in order of appearance in the festival, are:

Thursday, April 6, 7:30 p.m.
"Kind Hearts and Coronets"
Book by Robert L. Freedman; music by Steven Lutvak; lyrics by Robert L. Freedman and Steven Lutvak. Based upon the film "Kind Hearts and Coronets," written and directed by Robert Hamer. Director: Robert L. Freedman; Musical Director: Steven Lutvak

Based on the 1949 movie of the same name starring Alec Guinness (and recently released on DVD), "Kind Hearts and Coronets" is the new musical adventure about the dark side of royal ascension. Louis Mazzini is seventh in line to the D'Ascoyne family Dukedom, but that's not enough to win him the hand of his beloved Silbella. Determined to rise above his humble beginnings, Louis plots to remove the obstacles standing between him and his title.


Friday, April 7, 8 p.m.
"Persephone"
by Noah Haidle

Modern day sculptor Guiseppe is trying to carve an image of the Greek goddess Demeter from an unyielding block of marble because she's the love of his life. Demeter loves Guiseppe, too, but meaningful relationships are difficult, especially when stretched across centuries. Noah Haidle, author of the Off Broadway show "Mr. Marmalade," brings his trademark irreverence and eccentricity to this unusual comedy.


Saturday, April 8, 3 p.m.
"Voyeurs de Venus"
by Lydia Diamond
Director: Emma Griffin

Sara, a black scholar specializing in pop culture, is writing a book about Saartjie Bartmaan, known disparagingly as the Hottentot Venus. Sara's own issues of racial identity emerge as she struggles to recount Saartjie's life to a largely white audience, while navigating a minefield of personal intimacies with her husband and her lover. Past and present merge as the women's stories collide in this piercing drama. Diamond recently was named one of the Huntington's 2006 Playwriting Fellows.


Saturday, April 8, 8 p.m.
"Property"
by Valerie Martin, based on her 2003 novel
Director Peter Schneider

This antebellum drama pits two women on opposite sides of the racial divide. Manon, a white woman, and Sarah, her black chambermaid, are linked by the social structures of slavery and the fact that they share Manon's husband. An uprising at the manor prompts Sarah's escape, but will Manon allow her to find freedom—and new love—so easily? Martin is the author of several novels including Mary Reilly and The Great Divorce.


Sunday, April 9, 2 p.m.
"The Atheist"
by Ronan Noone

Augustine, a crooked journalist with nihilistic intentions, has made an art of clawing his way up the professional ladder. When he unveils the mayor's tawdry predilections (involving a hidden camera and reams of videotape), the scandal threatens to backfire. A 2004 Huntington Playwriting Fellow, Noone continues his focus on the American experience, which began with last year's Breaking Ground play, "Smiler Becoming Yank."


Sunday, April 9, 7 p.m.
"Mauritius"
by Theresa Rebeck
Director: Justin Waldman

The world of high-stakes stamp collecting is seedier and more dangerous than anyone suspects. After her mother's death, Jackie discovers a raft of debt and an album of old stamps, one of which may be her ticket to a life-saving windfall. With many philatelists moving in on the prize, her half-sister's claim to the album is the least of Jackie's worries. From the author of Omnium Gatherum and the 2004 Huntington hit, "Bad Dates."


Plays and playwrights featured in past Breaking Ground readings have had significant success with their works. Melinda Lopez's "Sonia Flew," originally in the 2004 reading series, is now being produced around the country, including at the Steppenwolf Theatre in Chicago. David Marshall Grant's "Pen," featured in the 2005 festival, is being produced this spring by Playwrights Horizons in New York. Etan Frankel's "Create Fate," also from 2005, was picked up for a full production last summer at the Williamstown Theatre Festival. David Rambo's 2004 Breaking Ground play, "The Ice-Breaker," receives its premiere at the Magic Theatre in San Francisco this spring, and will be produced by the New Repertory Theatre, in Watertown this October. Local actor/playwright John Kuntz's Breaking Ground 2004 script "Jasper Lake" was a winning entry in last year's Kennedy Center American College Theatre Festival, where it earned several national awards.

"I'm so proud we are using our resources to develop new plays and help playwrights at all stages of their careers," said Huntington Artistic Director Nicholas Martin. "Breaking Ground gives artistic and material support to these writers and it opens the process to the public. That way our community becomes a vital part of play development."

All readings take place in the Carol G. Deane Rehearsal Hall at the Calderwood Pavilion. Tickets are free but seating is limited and reservations are highly recommended. Call the Huntington Theatre Company Box Office at 617-266-0800.
-- OnStage Boston