Tennessee Williams is in the spotlight as SpeakEasy Stage premieres a program of the playwright's one-act plays entitled "Five By Tenn." Performances are January 27 - February 25 at the Calderwood Pavilion at the Boston Center for the Arts.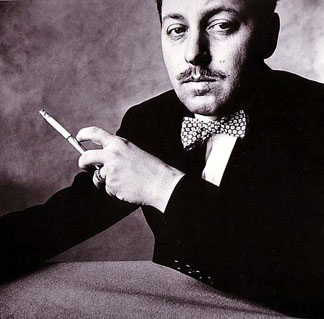 This originally-developed production follows the 2005 publication of thirteen newly-discovered plays by Williams (left). The plays, mostly written between the late 1930s and 1950s, existed in manuscript form and were edited by scholars Nicholas Moschovakis and David Rossel into texts believed to reflect Williams' final intentions.
Four of the plays -- "These Are The Stairs You Have To Watch," "Summer At The Lake," "And Tell Sad Stories Of The Death of Queens" and "Mister Paradise" -- are receiving their Boston premieres. The fifth piece, "I Can't Imagine Tomorrow," aired on PBS in 1970.
The works presented by SpeakEasy combine to dramatize the personal and artistic evolution of a poet from youth to old age -- from desire to death -- and are highly autobiographical. In Williams's own words, "If the writing is honest it cannot be separated from the man who wrote it." Each play represents a different decade of creative work by the famed playwright.
SpeakEasy has also obtained special permission from the Williams estate to include a scene from one of Tennessee Williams' last full-length Broadway plays, "Vieux Carre." The scene, which offers Williams' first depiction of sexual intimacy between men, has been added to provide a unified narrative arc to the evening.
The SpeakEasy production follows the 2004 Kennedy Center production of "Five By Tenn" which first premiered "These Are The Stairs You Have To Watch," "Summer At The Lake" and "And Tell Sad Stories Of The Death of Queens" with two other pieces. The D. C. production used an actor playing Williams to connect the plays.
In 2005, a Manhattan Theatre Club production presented a different collection of plays as "Five By Tenn." Additionally, none of the plays being presented by SpeakEasy were included in a production of "Eight By Tenn," presented by Hartford Stage in 2003.
SpeakEasy's Artistic Director, Paul Daigneault, commented "SpeakEasy is strongly committed to production Boston premieres. 'Five By Tenn' is a unique opportunity for us to maintain our mission brining unknown works by this classic American playwright to our audiences."
Directed by Scott Edmiston, the cast will include Ellen Adair, Christopher Brophy, Allyn Burrows, Mary Klug, Will McGarrahan, Eric Rubbe, Anne Scurria and Bill Young.
For information, call 617-933-8600 or visit www.BostonTheatreScene.com.
-- OnStage Boston