A Review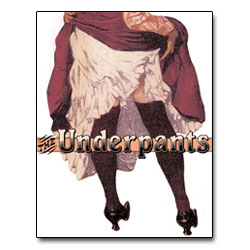 Les Exposure Dangereuses
By R. J. Donovan
"The Underpants," currently at Lyric Stage, is a baggy pants period comedy with a highbrow intent.
This is Steve Martin's adaptation of Carl Sternheim's 1910 farce about Louise, an innocent lovely who accidentally drops her draws at the town square in the presence of the King -- and most of her quaint little berg.
As the play opens, the dastardly moment has already occurred. Louise Maske has been embarrassed beyond belief, but it's her stodgy, ranting husband, Theo, who feels he's been victimized. A civil servant with his sights set on his future -- dull though it may be, he frets that the scandal will put a roadblock in his longterm security as a mindless paper-pusher.
What happens is that the little lady becomes something of a local celebrity. Such that two amorous male fans (a sickly barber and a romantic poet) set their sights on conquering Louise and getting a closer look at her underpants and more. They are so blatant in their pursuit that they both rent rooms in the Maske household to woo Louise right in front of Theo -- who's clueless.
Enter Gertrude, the busybody neighbor, who finds it titillating that Louise may actually dally with one or both (!) of her suitors. Living vicariously through the tryst-to-be, she offers to stitch Louise a fancy new pair of pantaloons for the occasion.
If all of this reads like a Victorian sit-com, so be it. Louise could very easily be Lucy Ricardo, hatching a scheme the blustering Ricky never sees -- even though it's all happening under his nose. Meanwhile, meddling Ethel Mertz pops in to help.
Steve Martin is an infinitely gifted actor, comedian and writer. Anyone familiar with "Picasso at the Lapin Agile," his fantasy meeting between Picasso and Einstein, knows of his ability to write a piece that's both sophisticated and laugh-out-loud funny. "The Underpants" has his voice all though it. However, what Martin might be able to deliver himself isn't necessarily a snap for others.
While "The Underpants" offers moments of clever inspiration, it relies on too many cheap laughs -- sexual and social. Plus the first act has too many inexplicable entrances and exits. The best sequence of the night comes at the top of Act Two when the characters gather around a dining room table and simply talk.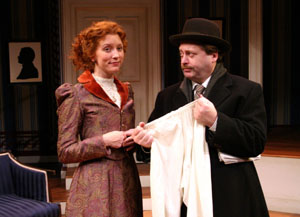 Steven Barkhimer (at right) is a standout as Theo. He plays the role with a blustery, self-righteous indignation that's perfect. Louise is played by Caroline Lawton (at right with Barkhimer), who starts off slowly but soon catches up.
Lewis D. Wheeler, fresh from a great performance in Lyric's "A Number," is Versati the poet and Neil A. Casey is Cohen the barber -- who's kosher with a "C" to avoid any prejudice. And Stephanie Clayman is busybody Gertrude, who delivers one of the plays' sharpest lines in a "tip of the plot" touch to Sternheim.
Throughout the run, prominent faces from the Greater Boston community will be making cameo appearances as The King (played by M. J. J. Cashman on opening night). Special guests will include everyone from WHDH-TV's Randy Price to comedian Jimmy Tingle, Boston Herald society editor Dana Bisbee, WBZ-TV's Scott Wahle, City Councilor John Tobin, "Chronicle's" Ted Reinstein and others.
The folks at Lyric will be getting their panties in a bunch through February 4.
"The Underpants" is at Lyric Stage, 140 Clarendon Street. For information, call 617-585-5678.
-- OnStage Boston
01/13/06