A Review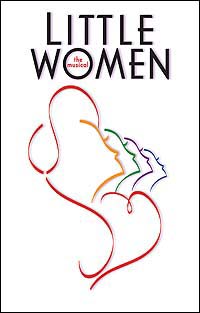 Exceeding Their Finest Dreams
By R. J. Donovan
An essential element of most school reading lists, Louisa May Alcott's "Little Women" long ago earned its rightful place in the literary world. The work eventually underwent the Hollywood treatment, in 1933 (with Katherine Kepburn), 1949 (with June Allyson and Elizabeth Taylor) and in 1994 (with Winona Ryder and Susan Sarandon), among other foreign adaptations and television versions.
Following in the footsteps of "Les Miserables," "Phantom of the Opera," "Jane Eyre" and others, the classic story of the March sisters of Concord, Massachusetts, made its transition to the musical stage in 2004 (after a false start when the creative team was reorganized).
One of its big draws when it finally opened on Broadway was having Sutton Foster in the lead role of Jo March. Foster was fresh from her Tony Award-wining success in "Thoroughly Modern Millie" and helped draw attention to the production. Then, as now, the inimitable Maureen McGovern lent addeed sparkle and style in the role of Marmee.
"Little Women" was a crowd-pleaser in its New York run. And the same is true of the touring company in residence at The Opera House through January 22. With a book by Allan Knee, music by Jason Howland and lyrics by Mindi Dickstein, the production is directed by Susan H. Schulman.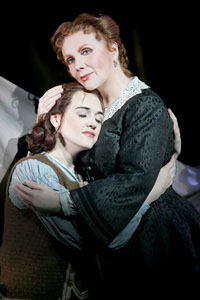 Without a star name in the role of Jo, Maureen McGovern (left) is now headlined above the title. However, Kate Fisher (left with McGovern), playing the role of Jo in this production, delivers a dynamo performance that's brimming with life and energy and star quality. She's feisty and passionate and she sings like an angel.
To her credit, she drives her spectacular solo first-act closer, "Astonishing," with power, soaring towards the final high notes where Sutton Foster too often tended to screech her way there.
Simply put, the show is sung superbly and the cast is a pleasure to listen to. As Laurie, Stephen Patterson is warm and lovable in "Take A Chance On Me." Playing the other three March sisters, Gwen Hollander (Amy), Renee Brna (Meg) and Autumn Hulbert (Beth), are like songbirds.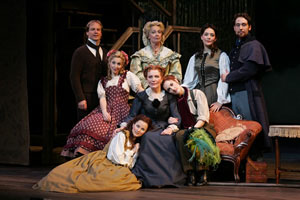 Laurie's tutor, Mr. Brooke, played by Michael Minarik has a sweet moment with Brna in "More Than I Am." And playing Professor Bhaer on opening night, James Darrah touched the heart several times, particularly in his solo number, "How I Am."
In the department of comic relief, Louisa Flaningam is appropriately blustery and opinionated as Aunt March. And Robert Stattel (from the original Broadway company) is irascible -- but with a twinkle -- as old Mr. Lawrence.
Saving the best for last, we return to Maureen McGovern. Her role is not necessarily the largest, but her presence certainly is. With measured tones and an understated strength that seems to stream before her as she moves, McGovern captures the crowd with two moving solos, "Here Alone" and "Days of Plenty." Having crafted a career masterfully interpreting the classic works of everyone from Gershwin to Harold Arlen and Rodgers & Hart, this is a lady who knows how to gently caress a song and turn it into a miniature play.
The show's a little long, but obviously it's hard to take a 500 page novel and reduce it to a couple of hours on stage. In the end, Jo, Meg, Beth, Amy and their sentimental story of family and independence are all there on stage. And judging from the sizable family audience at The Opera House, the show easily holds the attention of the many kids in the house.
And that, in the words of Jo March, is astonishing!
"Little Women" is at The Opera House, 539 Washington Street in Boston, through January 22. For information, call 617-931-2787.
Production Photos: Joan C. Marcus
-- OnStage Boston
01/13/06