Following its 2004 sold out engagement at The Colonial Theatre, the Tony Award-winning musical "Movin' Out," will return to Boston for a limited two week run at The Opera House from May 17 - 28. Based on 24 classic songs by Billy Joel, the production is conceived, directed and choreographed by Twyla Tharp. Tickets are on sale now.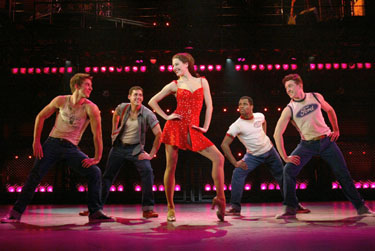 Critics raved that "Movin' Out" revolutionized musical theatre. Told through the choreography of Twyla Tharp, the show shares the story of lifelong friends over two turbulent decades that would change both their friendship and the world.
"Movin' Out" is unique in that the story is told with no dialogue -- it's a full evening of music and dance. As Tharp says, "The movement and the action tell the story."
Songs like "It's Still Rock and Roll To Me," "We Didn't Start The Fire" and "Pressure" all come together to weave a musical backdrop that runs from post World War II idealism to the Vietnam War and its subsequent unrest, and finally, survival.
Billy Joel fans will recognize the show's main characters as they all come from his lyrics. There's Brenda and Eddie from "Scenes From An Italian Restaurant," Tony and Sergeant O'Leary from "Movin' Out," Judy from "Why, Judy, Why," and James from the song of the same name.
For tickets and information, contact The Opera House box office at 539 Washington Street, call 617-931-2787 or visit with Ticketmaster.com.
-- OnStage Boston