The season at Trinity Repertory Company continues with the New England premiere of Kenny Finkle's light-hearted romantic comedy "Indoor/Outdoor" from February 17 – March 26.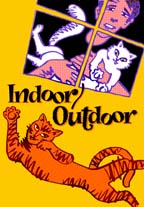 "Indoor/Outdoor's" central character is Samantha, a sexy and adorable indoor cat - safe, warm and well-fed. However, life with her single guy owner is getting too comfortable. When a sexy alley cat shows up at her window, will she leave her indoor security for the possibility of adventure outdoors?
Director Kevin Moriarty says "When I read the first draft of 'Indoor/Outdoor,' I found myself laughing out loud at the witty writing, and deeply moved by the sincerity of the characters' journeys – even though two of them are cats! It's as wise as it is giddy, and as honest as it is theatrical. I don't know any other playwright who shares Kenny's unique, openhearted voice."

Angela Brazil will play the central character of Samantha. Channeling more "Sex and the City" than "Animal Planet," the actress will approach the role with an emphasis on the human side of the character, without a fake whisker in sight. Mauro Hantman is Shuman, her endearingly neurotic owner; Phyllis Kay plays Matilda, a surprisingly insightful cat therapist; and Brown/Trinity Rep Consortium student Jacques Roy is Oscar, the sexy alley cat who tempts Samantha to stray.

Playwright Kenny Finkle's "Indoor/Outdoor" had its world premiere at the Hangar Theatre in Ithaca, NY, directed by Kevin Moriarty, and was recently seen at the Summer Play Festival in New York City and The Colony Theatre Company in Burbank, CA. It will be produced off-Broadway this winter at the DR2. In August 2005, his "Bridezilla Strikes Back" (co-written with Cynthia Silver) was seen at the NY Fringe Festival and received the "Best Solo Performance" Award. In 2002 his play "Transatlantica" premiered at the Flea Theatre in Tribeca. Previously, his work has been seen at Playwrights Horizons, Williamstown Theatre Festival and adobe theatre, among others. His play "Josh Keenan Comes Out To The World," was presented as part of Philadelphia's Gay and Lesbian Theatre Festival (2004) and toured schools in upstate New York.
For tickets and information, stop by the box office at 201 Washington Street in Providence, call (401) 351-4242 or visit www.trinityrep.com.
-- OnStage Boston