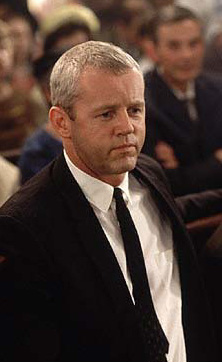 Noted stage, film and TV actor (and Beverly native) David Morse (left) will be featured in a reading of Eugene O'Neill's "The Iceman Cometh" on Monday, January 30, at 7:00 p.m. at The Shubert Theatre.
Originally scheduled for a fall date, the reading kicks off the third annual American Voices: Drama, Dialogue, Downtown play reading series presented by The Wang Center for the Performing Arts and the Poduska Family Foundation, and sponsored by the Boston Phoenix.
The series will continue with readings of Lorraine Hansberry's "A Raisin in the Sun" on February 27, and Tennessee Williams' "The Night of the Iguana" on March 13. All performances will take place on the stage of The Shubert Theatre and short question and answer session will follow each reading.
"The Iceman Cometh," Eugene O'Neill's classic tragedy, was written in 1939 and first opened in 1946. In the play, Larry Slade, an ex-anarchist and a regular at Harry Hope's Saloon, has abandoned his hopes, frustrated by the everyday dullness of life. Slade's fellow alcoholics reminisce and talk of the dreams they had planned for their lifetime.
Through a series of surprising events, the characters of "The Iceman Cometh "present devastating confessions that chronicle the dark side of human nature. David Morse will be featured in the central role of Hickey, a gambler who changes his ways and is determined to help the drifters, alcoholics and prostitutes who have come to depend on him.
Audience members who attend "The Iceman Cometh "are invited to register for free acting workshops held the Tuesday and Wednesday evenings following the play reading, presented by The Wang Center's Education Department, Suskind Young At Arts. The acting workshops are led by professional actors and directors, and are open to participants of all acting abilities 14 years and older. Participants will experience intensive acting exercises while doing scene work from the play. Registration is first-come, first-served and will be held during intermission at the "The Iceman Cometh "reading. Participants must attend the play reading to register; advance registration is not available.
David Morse's stage credits include "How I Learned to Drive" (Drama League Award, Drama Desk Award, Obie Award), "A Death in the Family," "On the Waterfront," "Of Mice and Men" (Dramaloque and LA Weekly awards) and over 30 productions with the Boston Repertory Company.
He made his motion picture debut in Richard Donner's acclaimed drama "Inside Moves," and then went on to star in two Sean Penn directed dramas, "The Indian Runner" and "The Crossing Guard" (Independent Spirit Award nomination for Best Supporting Actor). Morse has starred in countless standout roles in films such as: "Dreamer: Inspired by a True Story," "The Slaughter Rule," "Hearts in Atlantis," "The Green Mile" (Screen Actors Guild Award nomination for Outstanding Cast Performance); "Dancer in the Dark" (which won the Palm d'Or at the Cannes Film Festival), "Proof of Life," "Crazy in Alabama," "The Negotiator," "The Long Kiss Goodnight," "The Rock" and "12 Monkeys." His television credits include "Hack," "Murder Live," "Stephen King's 'The Langoliers,'" "Diary of a City Priest" and "St. Elsewhere," which was set in Boston's South End.
Other cast members for the reading include Jeff Gill (Harry Hope), Sam Weisman (Ed Mosher), Lonnie Farmer (Joe Mott), Paul Farwell (Piet Wetjoen), Charles Weinstein (Hugo Kalmar), Tasso Feldman (Don Parritt), and Caroline deLima (Cora).
Director Steven Maler is the founding Artistic Director of Commonwealth Shakespeare Company (CSC) and VP of Artistic Programming at The Wang Center for the Performing Arts. He most recently directed "Hamlet" on Boston Common, preceded by "Much Ado About Nothing" and "Macbeth" on Boston Common, as well as the critically acclaimed opera "Powder Her Face." His CSC production of "Twelfth Night" won the Elliot Norton Award for Best Production and his production of "A Midsummer Night's Dream" won the Elliot Norton Award for Outstanding Director.
In last winter's second season of American Voices, four plays were read, including Thornton Wilder's "The Matchmaker," which featured Charles Busch in the role of Dolly Levi, Lillian Hellman's "The Children's Hour," read by Broadway, film and television actress Kerry O'Malley, Charles Fuller's "A Soldier's Play," which featured "Million Dollar Baby" star Anthony Mackie, and Arthur Miller's "All My Sons," featuring Tony Award-winner Blair Brown.
Tickets ($10.00 for general admission; $5.00 for college students, seniors, and groups of 20 or more), are on sale at The Shubert Theatre Box Office, 265 Tremont Street, Boston, by calling 800-447-7400 or by visiting www.wangcenter.org.
-- OnStage Boston