A Review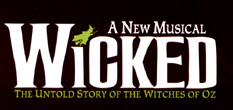 Wiz Kids
By R. J. Donovan
Forget what you think you know about the inhabitants of the Land of Oz. No one is who they seem to be. And that's the fun in seeing "Wicked," playing at The Opera House through May 14.
"Wicked" took New York by storm three years ago, and it's been playing to sold out houses at Broadway's cavernous Gershwin Theatre every since. The announcement, almost a year ago, of the show's Boston engagement created the same ticket furor here. And the production now playing in town nicely lives up to the anticipation.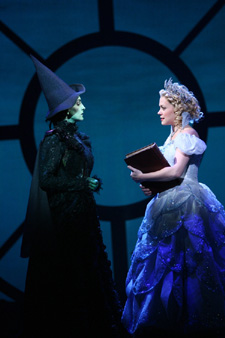 "Wicked" is the story of the two witches of Oz, one good and one bad. And lest you think this is just another retelling of Dorothy, Toto and the MGM Technicolor classic, think again.
"Wicked" is all about the odyssey of these two remarkable young women. As the story unfolds and we see them learning and growing and making their own mistakes, we're faced with the fact that good isn't necessarily all good, and bad isn't necessarily all bad.
The story starts with the two girls meeting early in life -- long before Dorothy fell from the sky. Galinda, later shortened to Glinda, and Elphaba (soon to be known as The Wicked Witch of the West) meet while both are students as Shiz University. (Elphaba, by the way, is named in a nice tip-of-the-hat to original Oz novelist L. Frank Baum, playing on his initials, L. F. B.)
Elphaba is at the University as guardian of her younger handicapped sister, Nessarose.
Glinda is there to become the star pupil.
Elphaba is thoughtful and green and an outcast. She's shunned by her family.
Glinda is blonde and popular and a bit of a twit. She calls her parents "Mommsie and Popsicle."
The two unwittingly become roommates and the sparks fly.
Again, Dorothy doesn't figure in to much of this. In fact, we only see her in silhouette for about 3 seconds very late in the show. However, before the night is over the story eventually catches up and follows a parallel track to the plot we already know. While Dorothy and her three friends are skipping down the Yellow Brick Road somewhere off stage, we see the reality of manipulation and intrigue that was going on elsewhere.
When the show opened on Broadway, Kristen Chenowith was Glinda and Idina Menzel was Elphaba. They were both wonderful in their roles, and Menzel walked away with the Tony as Best Actress.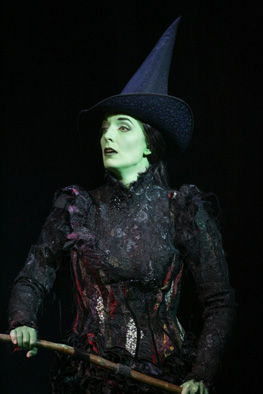 It would have been hard to surpass their performances, but here in Boston, Julia Murney (left) pretty much gives Menzel a run for her money as Elphaba. She skillfully captures the feisty personality of the shunned, misunderstood outsider who's smarter than her peers and doesn't care what other people think.
Her introductory song is "The Wizard and I" and Murney can bring tears you to your eyes with the sheer emotion she imparts. The night I attended, she pretty much stopped the show, holding on to the last note of the song as her voice exploded joyfully from the stage.
She does the same thing at the end of Act I. As the Wicked Witch we've all come to know, she sings "Defying Gravity" while flying over the stage. It puts a button on the first act that leaves you with goose bumps.
At the performance I attended, Glinda was played by understudy Emily Rozek, filling in for Kendra Kassebaum. She did a great job as the ambitious blonde who's got a bit of a mean streak. Rozek has a beautiful singing voice and she delivered a funny, self-assured performance that would lead you to believe she plays the part every night.
Gregory Maguire of Concord wrote the clever, original novel upon which "Wicked" is based, and the story is filled with wonderful moments that reveal how things really came to be in Oz. I won't give much of it away, except to say that when several plot points come to light, the audience (both young and old) gives forth a satisfied "aahhhh!" of recognition.
Winnie Holzman has created the book for the musical based on Maguire's original story.
Music and lyrics are by Broadway veteran Stephen Schwartz, who also penned such hits as "Godspell," "Rags," "Children of Eden" and "Pippin" among others. He captures the fanciful tone of the story while also getting at the underlying emotion. "For Good" is a standout, exploring what friendships can mean, and "I'm Not That Girl" is a touching look at the bittersweet aspects of love.
And again I return to "The Wizard and I." The song is particularly clever because Schwartz has filled it with foreshadowing. Elphaba has discovered a natural ability for sorcery, and she envisions how her talents will be rewarded by The Wizard. She imagines celebrations in Oz that will be all about her. When people see her, they will scream. We, of course, know that will come to pass, but not in the way she innocently hopes. Some of this you get the first time you hear the song, but repeated listening shows just how nimble Schwartz is at storytelling.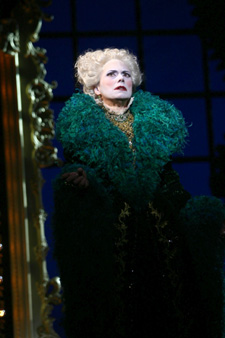 The cast is rounded out by: P. J. Benjamin as a very vaudevillian Wizard; Alma Cuervo (left) as imperious school mistress Madame Morrible; Sebastian Arcellus, appropriately brainless as Fiyero, who's smitten with Elphaba despite Glinda's devilish manipulation; Logan Lipton as Boq, sweetly in love with Glinda, who has no use for him; and Jennifer Waldman, as Nessarose, who has a moment to shine when she shuns her handicap to become more wicked than even her sister could have suspected.
Does "Wicked" have it's sentimental side. Sure, and there's nothing wrong with that. In the end, the musical thoughtfully leaves "a hand print on your heart."
"Wicked" is at The Opera House through May 14. For information, call Ticketmaster at 617-931-2787.
NOTE: Tickets for "Wicked" are scarce. However, a day-of-performance lottery for front side orchestra seats will be held daily. Each day, 2 1/2 hours prior to show time, people who present themselves at The Opera House box office can have their names placed in a lottery drum. Thirty minutes later, names will be drawn for a limited number of seats, priced at $25 each. This lottery is available in-person only, with a limit of two tickets per person. Sales are cash only. Each person may submit one entry only and must be present with a photo I.D. when the winning names are drawn.
Production Photos: Joan Marcus
-- OnStage Boston
04/17/06