To conclude its inaugural season at The Arsenal Center For The Arts in Watertown, New Repertory Theatre will present "Ragtime." According to theater officials, the production ranks as the largest undertaking in the company's twenty-one year history. Directed by Rick Lombardo, with music direction by Todd C. Gordon and choreography by Kelli Edwards, "Ragtime" runs April 30 through May 21.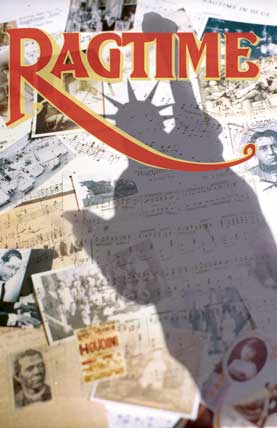 Featuring a cast of thirty-three, an eight-piece orchestra and a scenic design of epic proportions (including an onstage car), the production also introduces a host of new musical theatre performers to New Rep's stage.
Weaving together fictional characters with historical figures, "Ragtime" is based on E. L. Doctorow's landmark novel. Creators of the stage version include the popular composer-and-lyricist team of Stephen Flaherty and Lynn Ahrens, with a book by Terrence McNally.
In turn-of-the-century New York, the lives of a white family, a black family and an impoverished immigrant family simultaneously intersect. As the boundaries of their narrowly-defined worlds crumble, passions of all kind collide. A smash Broadway hit in 1998, "Ragtime" received multiple Tony Awards and has become a modern classic of musical theatre.
Along with New Rep veterans Leigh Barrett (Mother), Peter Edmund Haydu (Father) and Paul D. Farwell (Willie Conklin), "Ragtime" features Stephanie Umoh (Sarah), a sophomore at Boston Conservatory who makes her New Rep and Boston debut with this production. Additional cast members include Maurice E. Parent (Coalhouse), Frank Gayton (Henry Ford), Paul Giragos (Houdini) and June Baboian (Emma Goldman). Additionally, New Rep has cast two young children in the role of Coalhouse Walker III; these children will be among the youngest performers ever to appear on New Rep's stage.
Lombardo commented, "'Ragtime' is important, of course, because it's another production that proves what New Rep can do in its new home. But it's also a classic New Rep musical: it's both thought-provoking and humorous, while presenting questions of real relevance to our audiences. How do race and class continuously divide us, and how have they defined American history? And what causes an intelligent young man to transform from an idealist to a terrorist?"
For tickets and information, call 617-923-8487 or visit www.newrep.org.
-- OnStage Boston