Covert meetings, misdirected love notes and a beautiful princess threaten the chastity of four young scholars in the Huntington Theatre Company's production of William Shakespeare's "Love's Labour's Lost," directed by Huntington Artistic Director Nicholas Martin, in his first Boston-area Shakespeare production. The show runs from May 12-June 11 at the Boston University Theatre, 264 Huntington Avenue in Boston.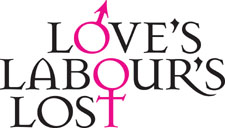 The bittersweet comedy featuring young characters in love is a logical choice for Martin, who says he chose the play because it is "complex, mysterious and defies categorization in the Shakespeare canon. I love its exuberant youthful energy, and that it's very funny and a little bittersweet. I think it's an ideal show to end the season and start the summer."

Martin's production is set in 1910 pre-World War I Europe when, as he says, "the world was still full of hope and promise, and there was room for carelessness and dalliance. People still believed that anything was possible, despite clouds of unrest looming on the horizon. After World War I there was a loss of innocence as we entered the Modern Age."
Martin says setting the production in 1910 allows for a specific and stylized look for the show. "This production will not be buried under fabric," he says, referring to the lack of Elizabethan-style costumes and furniture. Live music will be performed throughout, serving as a conduit for the emotional twists and turns of the text, and as an underscore to the Bard's brilliant language.

"Love's Labour's Lost" tells the tale of the King of Navarre who, along with his three young lords, takes a three-year oath of chastity that precludes them from seeing or visiting women in order to focus on their academic studies. Their oaths are tested almost immediately by the untimely visit of the Princess of France and her three beautiful ladies-in-waiting. Covert meetings, misdirected love notes, and battles of wits ensue as the men try hilariously to keep their promise.

Along with casting veteran actors, Martin underscores the innocent, youthful dynamics of the play by featuring emerging young local (and locally-trained) talent, including several student actors and recent graduates. Boston University graduate Noah Bean, who just completed a starring role in David Mamet's acclaimed new play, "Romance" in Los Angeles, will play the lead character of Berowne.

Joining him are Huntington favorites Eric Anderson, Mia Barron, Zabryna Guevara, Will LeBow, James McMenamin and Bill Mootos. Rounding out the cast are Jeremy Beck, Elisa Bocanegra, Kieran Campion, Neil A. Casey, James Fouhey, Robert Jason Jackson, Krystal Rowley, Rachel Rusch, Tommy Schrider and Peter Zachari.
RELATED EVENTS

May 16
SNEAK PREVIEW
Presentation by a member of the Huntington's artistic staff, featuring behind-the-scenes and production-related information. 6:30 p.m. in the theatre. Free with ticket purchase.
May 25 and June 7
ACTORS FORUMS
Participating cast members will appear after the 7:30 p.m. performance on May 25 and after the 2 p.m. performance on June 7 to answer audience questions. Free with ticket purchase.

May 31
OUT & ABOUT CLUB
For members of the gay, lesbian, bisexual, and transgender communities to mingle with staff, artists and each other. Pre-show reception at 6 p.m. at Top of the Hub Restaurant and a post-show backstage tour included. Free with ticket purchase.

June 2
ASL-INTERPRETED PERFORMANCE
For audience members who are deaf or hard of hearing, this 8 p.m. performance will be interpreted in American Sign Language. Call TTY 617-424-0694 for more information.

June 3
AUDIO-DESCRIBED PERFORMANCE
For audience members who are blind or low-vision, this 2 p.m. performance is described live via wireless headphone technology. Equipment loaned free with ticket purchase; log onto
www.huntingtontheatre.org or call 617 266-0800.
June 4
HUMANITIES FORUM
A lively discussion about the issues and ideas presented in the production. After the 2 p.m. show. Free with ticket purchase.
For tickets and information, stop by the Huntington Theatre Company box office, call 617-266-0800 or visit www.huntingtontheatre.org.
-- OnStage Boston