The Lyric Stage Company will conclude its 2005-2006 Season with the world premiere of Jack Neary's new play "Kong's Night Out." This new comedy, intersecting the characters of the 1933 King Kong film, is the first play to come from Lyric's Growing Voices Program. Directed by Spiro Veloudos, performances run May 5 through June 3.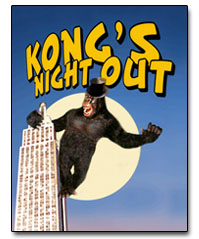 On the opening night of his new show, Broadway producer Myron Siegel is distressed to learn that much of his audience has cancelled its tickets for the evening's performance in order to attend the mysterious new attraction promised at a neighboring theatre by famous nature-filmmaker Carl Denham.
Upon learning of Denham's "big monkey," Myron plots with his domineering mother, his loyal henchman and his starstruck niece fresh off the bus from Buffalo, to lure the gorilla to his own show and foil the plans of his rival.
In an homage to screwball comedies of the 1930s, Neary employs mistaken identities, slamming doors, a pie in the face and a cameo performance by King Kong himself.
Neary first approached Producing Artistic Director Spiro Veloudos with the idea for "Kong's Night Out" while Neary was directing the Lyric production of "Lend Me a Tenor" in May 2002. "Kong" was subsequently chosen by the Lyric as the first project of Growing Voices, the Lyric's new play development program, and was given several public readings and discussions. Veloudos has worked closely with Neary and with Producing Associate Rebecca Low to fine-tune the script over the past year and a half.
Veloudos is particularly delighted to be bringing this world premiere to the stage. "There is something thrilling and very satisfying about interpreting a play for the first time and introducing the audience to a new work – it's a big responsibility and an exciting challenge. I particularly like having the author in the room during rehearsals – a rare occurrence – and am greatly enjoying our ongoing collaboration."
The cast includes Larry Coen as Myron Siegel, Rachel Harker as his duplicitous wife Bertrille, Ellen Colton as his domineering mother Sally Charmaine, Lordan Napoli as his gee-whiz niece Daisy, Steve Gagliastro as his bodyguard Little Willie, and M.J.J. Cashman as his major investor Sig Higginbottom. Timothy Smith plays nature-filmmaker Carl Denham, Sarah Abrams is his leading lady Ann Darrow and Chris Loftus is Ann's fiance Jack Driscoll.
Neary's original play "Beyond Belief" was presented at the Lyric in 2003. Most recently, he directed his play "The Big Apple" for the Image Theater, his comedy "Jerry Finnegan's Sister" for the Majestic Theater in West Springfield, and "Sleuth" for the Foothills Theatre Company. His new musical play, "Ring a Ding Ding," featuring Carol O'Shaughnessy, runs in May at the Firehouse Center in Newburyport. In June he will direct his adaptation of Henry James' "The Turn of the Screw" at New Century Theatre in Northampton. As an actor, he has appeared in "Chicago" and "Beauty and the Beast" at Foothills, and will appear in an upcoming episode of Showtime's "The Brotherhood."
Related Events
Sunday Talkbacks
There will be two audience talk back events where audience members can meet the actors and share their thoughts with their fellow theatregoers following the Sunday performances at 3 p.m. on May 7 and 21.
Meet the Playwright
Meet playwright Jack Neary and learn about the process of developing a new play at an audience discussion following the 7:30 p.m. performance on Thursday, May 18.

For tickets and information, stop by the Lyric box office at 140 Clarendon Street (YWCA Building) in Boston, call 617-585-5678 or visit www.lyricstage.com.
-- OnStage Boston