"A good walk spoiled," is how Mark Twain described the game of golf.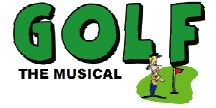 Exasperating for some, exciting for others, the world of golf is revealed in "GOLF: The Musical," opening July 12 at the Cutler Majestic Theatre at Emerson College. This cavalcade of skits, puns and songs poke tuneful, affectionate fun at the world of golf and the men and women who inhabit it.
"GOLF: The Musical" has book, lyrics and music by Michael Roberts, based on a concept by producer Eric Krebs. Directed by Christopher Scott, the musical vignettes cover everything from golf attire and technique to rousing numbers celebrating golf greats Tiger Woods and Annika Sorenstam, an ode to 'Big Bertha,' a re-creation of the great comedy duo – and celebrity golfers – Bing Crosby and Bob Hope. There's even an on-stage putting competition featuring the show's cast and audience members.
"GOLF: The Musical" debuted Off-Broadway in the fall of 2003 at The John Houseman Theater in New York City, where it played for nearly seven months. Off-Broadway and regionally, the show has received kudos from both theater critics and golf pundits. Both the New York Times and Golf Magazine called the show "hilarious," while The Scottsdale Tribune critic said, "'GOLF: The Musical' has a perfect swing onstage. It's a stroke of near genius!"
"GOLF: The Musical" also played at the World Golf Hall of Fame in St. Augustine Florida and the opening celebration for The Ryder Cup in Bloomfield, Michigan, as well as at performing arts centers, theaters and country clubs across the country.
The game of golf has grown in the past decade as a leading leisure pastime and professional sport enjoyed by 35 million Americans and hundreds of millions of pro and amateur players worldwide. Its popularity can be seen in the creation of the Golf Channel on television, a plethora of magazines promoting the sport, pro shops and driving ranges cropping up in both suburban neighborhoods and shopping malls across the country and more youngsters taking a swing at the ball than ever before.
For tickets and information, stop by the Cutler Majestic box office at 219 Tremont Street, call Telecharge at 800-447-7400 or visit www.maj.org.
-- OnStage Boston