How far would you go to reverse 'The Curse?'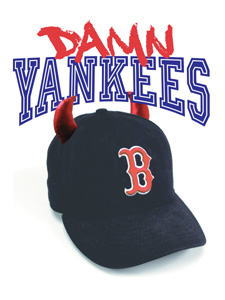 On April 25, the award-winning North Shore Music Theatre (NSMT) will open its 2006 musical season with an all-new updated production of "Damn Yankees," created just for NSMT audiences, and presented in association with The Boston Red Sox. "Damn Yankees" will play the newly renovated arena theatre from April 25 - May 14. The production will be directed and choreographed by Barry Ivan.
NSMT has put a new spin on this heart-warming classic which now tells the story of a die-hard Red Sox fan who makes a deal with the devil to help the Sox break the curse and take the pennant from the dreaded Yankees.
Based on a concept by Jon Kimbell, Joe DiPietro ("Memphis," "All Shook Up," "I Love You! You're Perfect! Now Change!") has adapted the original book by Douglass Wallop and George Abbott - for this production only - to feature surprises and special appearances. The memorable score, with music and lyrics by Jerry Ross and Richard Adler includes "You Gotta Have Heart" and "Whatever Lola Wants."
"Damn Yankees is one of my favorite musicals," said Kimbell, NSMT's Artistic Director and Executive Producer. "It's a marvelous example of superb musical theater, and it lends itself beautifully to the new concept of the Red Sox and 'The Curse.' It's not often that a theater has the ability to take a classic and personalize it to a specific location. It's a rare opportunity for both Red Sox fans and theater fans to come together to experience this type of excitement on stage."
Among the many special events surrounding this production, NSMT will welcome the Red Sox mascot Wally the Green Monster (April 27 and May 9 performances) and the World Series Trophy (April 27performance) to the theater. In addition, patrons will be swept up in authentic Red Sox fever with play-by-play commentary by Fenway Park announcer Carl Beane and veteran baseball writer Sean McAdam. Plus, there will be plenty of ball park concessions for patrons to enjoy on the NSMT grounds and in the lobby.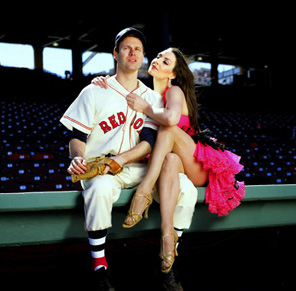 The cast will be lead by George Merrick (left) as Joe Boyd. Merrick has performed many leading roles in regional theatre and Off-Broadway as well as on tour including Billy in "Carousel," Curly in "Oklahoma!," Cliff in "Cabaret" and Tommy in "Brigadoon" in venues from Sacramento Music Circus and Syracuse Stage to The Wang Center, The Ahmanson Theatre in L.A. and the Berkshire Theatre Festival.
Broadway veteran Shannon Lewis (above with Merrick) will play the seductive Lola. Ms. Lewis' Broadway credits include the recent Broadway revival of "Sweet Charity," as well as "Fosse," "The Look of Love," "Contact," "Candide" and "Crazy for You."
Raising a little hell in his NSMT debut playing Mr. Applegate will be Jim Walton. Walton's credits include the original production of "42nd Street" as well as productions of "Crazy for You" (PBS), "Merrily We Roll Along," "Sweeney Todd," "The Music Man," "And the World Goes 'Round," "Closer Than Ever" and "Lady, Be Good!"
The original Broadway production opened in 1955 as a star vehicle for Gwen Verdon, choreographed by Bob Fosse. A film version followed in 1958, again with Verdon as the tempting Lola, Ray Walston repeating his role as the devilish Applegate, and Tab Hunter as young Joe. The 1994 Broadway revival starred Bebe Neuwirth as Lola, Victor Garber as Applegate and Jarrod Emick as Joe (Emick is currently on Broadway in "Ring of Fire"). The show gained renewed interest when Jerry Lewis took over the Applegate role and toured the show extensively.
For tickets and information to see "Damn Yankees" at North Shore, stop by the box office at 62 Dunham Road in Beverly, call 978-232-7200 or visit www.nsmt.org.
-- OnStage Boston