Featuring a cast of inspiring aerial performers, "Project Bandaloop" will attempt to defy gravity at The Shubert Theatre for three performances only on May 13 and 14.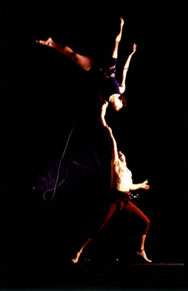 Honoring nature, community and the human spirit through dance, the company creates a blend of movement, sport, ritual and environmental awareness. Inspired by the possibilities of climbing and rappelling, the choreography draws on aerial, vertical and horizontal movement.
"Project Bandaloop" is part of The Wang Center for the Performing Arts' 2006 Artropolis Family Series sponsored by The Poduska Family Foundation.
Stimulating the viewer's awareness of their natural and built environments, "Project Bandaloop" has been performed in a wide variety of contexts, many of which are site-specific. The work has been presented in theaters, on buildings, in atriums, warehouses, convention halls and in nature on cliffs.
For tickets and information, stop by the Shubert box office at 265 Tremont Street in Boston, call 8002-447-7400 or visit www.wangcenter.org.
-- OnStage Boston