Trinity Rep in Providence will kick off the New Year with "Hamlet" from January 27 - February 26 at the Chace Theatre. Long touted as perhaps the best-known play in the English language, "Hamlet" is Shakespeare's timeless tale of murder, passion, treachery and revenge.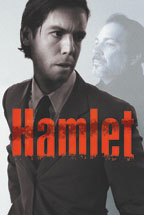 Directed by Brian McEleney, the production features Stephen Thorne in the lead role of the son caught between two opposing forces - avenging his father's murder and preserving his moral integrity.
When asked about the play's timeless appeal, McEleney states, "Shakespeare took a popular genre - the revenge drama - and turned it inside out by examining the human questions it poses. What do we do about evil? Hamlet is overwhelmed by a world that operates without justice or reason, in which violent actions have unintended, unimaginable consequences."

McEleney and his creative team are fashioning a lush 1930's setting for the production, placing it in the world of a European manor house. "The social context is a glamorous, corrupt world on the edge of extinction," he explains, "a world of strict class structures, incredible wealth and privilege, designed for elaborate parties with musical, athletic and theatrical entertainments."

In addition to Thorne, the company includes Fred Sullivan, Jr., Cynthia Strickland, Timothy Crowe, Joe Wilson, Jr., Janice Duclos, Rachael Warren and William Damkoehler. Rounding out the cast are three Brown/Trinity Rep consortium students, Justin Blanchard, Louis Changchien and Rama Marshall.

Post-Show Talk-Backs
Beginning with "Hamlet," Trinity Rep audiences will be invited to participate in twenty-minute discussions after every performance. The talk-backs will be moderated by Curt Columbus, who becomes the company's Artistic Director in January. Topics for discussion may include the play and its context as well as political, social or literary themes.
As Curt Columbus says, "The theater experience doesn't end when the curtain comes down. The theater is one of the few places where large groups of us can share an experience, and then share a conversation about it."
For information and tickets, stop by the box office at 201 Washington Street in Providence, call 401-351-4242 or visit www.trinityrep.com.
-- OnStage Boston