Stoneham Theatre begins 2006 by bringing one of John Irving's most celebrated novels to the stage. "A Prayer For Owen Meany," the modern American tale of an extraordinary boy, will have its New England premiere at Stoneham from January 12 - 29. Adapted by Simon Bent, this is the unforgettable story of the small boy with the "wrecked voice" who believes he is God's instrument. Weylin Symes directs the production.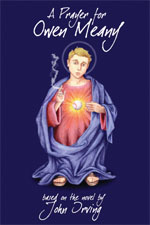 The inspiring story set in New Hampshire of the 1950s and 1960s explores the teenage friendship between John and the heartbreaking hero, Owen, whom John later credits as being the reason he believes in God. Impaired by an underdeveloped body, Owen is disproportionately short and needs to shout to be heard because his vocal chords are so weak.
Owen's stature makes him the butt of jokes and cruel pranks, but also the recipient of many special privileges, such as getting to play the baby Jesus in a Christmas pageant because he's the only person small enough to fit in the manger. "A Prayer For Owen Meany" is a coming-of-age account of friendship, families, "normalcy," politics, faith and doubt.
New Hampshire native John Irving published his first novel, "Setting Free the Bears," at the age of twenty-six. "The World According to Garp," published in 1978 to phenomenal acclaim, firmly established him as one of the most inventive and talented novelists in America.
During the 1980's, Irving wrote a series of acclaimed books: "The Hotel New Hampshire," "The Cider House Rules" and "A Prayer for Owen Meany." In these novels his originality and vision came brilliantly to the forefront, along with trademark subjects as wide-ranging as feminism, religion, wrestling, sex and New England life.
In addition to "A Prayer For Owen Meany," which received acclaim in its world premiere at the National Theatre in London in 2002, Simon Bent's plays include "The Associate" (also at the National Theatre), "Accomplices" (Crucible Theatre), "Golden Road," "Bad Company" and "Sugar Sugar" (Bush Theatre), "The Blood of Others" (Arcola Theatre), "Shelter" and "The Trouble with Girls" (NT Studio).
With Ken Schatz in the title role, the production features Timothy Smith, Owen Doyle, Richard Arum, Jon L. Egging, Stephen Russell, Bobbie Steinbach, Lisa Tucker, Caitlin Lowans, Cristina Miles, Ann Marie Shea and Christine Hamel. The cast also includes Sharon Mason, Floyd Richardson, Cory Scott and Gerard Slattery.

For tickets and information, stop by the Stoneham Theatre box office at 395 Main Street, call 781-279-2200 or visit www.stonehamtheatre.org.
-- OnStage Boston