Producer Cameron Mackintosh has announced that the National Tour of "Les Miserables" will play one final engagement in Boston, at The Opera House, from February 15 - 26. This will mark the eighth time the musical has played Boston.
Based on the Victor Hugo novel, the phenomenally successful musical by Alain Boublil and Claude-Michel Schonberg originally opened in London in 1985 where it celebrated its 20th anniversary this past October 8th.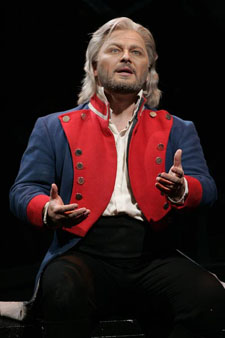 The sweeping saga traces the life and times of fugitive Jean Valjean through three turbulent decades of 19th century France. Currently featured in the final touring cast are Randal Keith (left) as Valjean, Robert Hunt as Javier and Joan Almedilla as Fantine.
The show has its American premiere at the Kennedy Center for the Performing Arts in Washington, D. C. in December of 1986 and subsequently opened on Broadway on March 12, 1987. It would go on to play for 16 years, ending with a final performance on May 18, 2003. It ranks as the third longest running show in Broadway history, having played 6680 performances.
Seen by more than 51 million people around the world, "Les Miserables" set a new Guinness World Record in the category "Most concurrent musical productions" earlier this year. As of June 16, 2005, the musical had a record 15 productions being staged around the world at the same time. The show's global box office receipts now exceeds $1.8 billion.
"Les Miserables" is presented as part of the Lexus Area Dealers' Broadway in Boston series.
Tickets are on sale now at The Opera House box office (539 Washington Street), the Colonial box office (106 Boylston Street), by calling Ticketmaster at 617-931-2787 or visiting www.BroadwayAcrossAmerica.com.
-- OnStage Boston