Following an acclaimed run on Broadway last season, "Frozen," will receive its area premiere this January at New Repertory Theatre. Directed by Elliot Norton Award winner Adam Zahler, "Frozen" will star Nancy E. Carroll, Adrianne Hewlett and Bates Wilder. Performances run January 22 through February 12, 2006. New Repertory Theatre is in residence at the Arsenal Center for the Arts at 321 Arsenal Street in Watertown.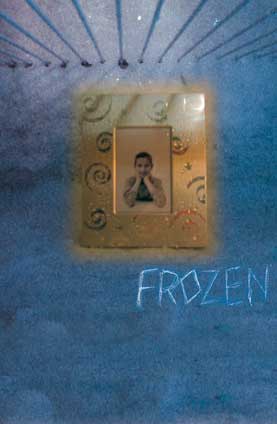 A finalist for the Pulitzer Prize and nominated for four Tony Awards including Best Play, "Frozen" explores the intersection of three shattered lives, all of them connected by the death of a child.
When Rhona, a ten-year-old girl, goes missing on a walk in an English suburb, her mother, Nancy, retreats into a state of emotional paralysis, unable to comprehend her daughter's disappearance. Twenty-five years later, Rhona's death has been confirmed and her killer has been convicted, but Nancy finds herself still unable to move past the tragedy of her daughter's murder.
Eventually, she agrees to meet Agnetha, an American psychiatrist completing her dissertation: "Serial Killing: A Forgivable Act?" However, Agnetha's dispassionate academic theories are shaken after confronting the magnitude of Nancy's grief. In haunting terms, "Frozen" offers a meditation on the possibilities of forgiveness and the extraordinary persistence of human compassion, even under the darkest of circumstances.
Producing Artistic Director, Rick Lombardo, explains, "Frozen is a beautiful piece of writing that plumbs the depths of a very dark subject - the loss of a child - and from that crafts an incredibly graceful, moving story. I'm honored to welcome artists of such extraordinary sensitivity to work on this project, many of them New Rep favorites. Recently, Bates Wilder and Nancy Carroll have been seen in comic roles by New Rep audiences, though both have also presented wonderful dramatic performances on our stage."
Adam Zahler returns to New Rep after directing last season's Elliot Norton Award-winning "Permanent Collection." Nancy E. Carroll (Nancy), returns after appearing as the Witch in last season's "Into the Woods," New Rep's longest running and most successful production. Adrianne Hewlett (Agnetha) makes her New Rep debut with this production, having worked with such regional companies as Steppenwolf Theatre, Actors Theatre of Louisville and American Repertory Theatre. Bates Wilder (Ralph) returns to New Rep's stage after his acclaimed appearances in "Waiting for Godot," "Scapin" and "Jerusalem."
For tickets and information, call 617-923-8487 or visit www.newrep.org.
-- OnStage Boston