'Tis the season (almost!) and Irving Berlin's beloved classic "White Christmas" will soon make its East Coast premiere at The Wang Theatre. Performance dates are November 25 – December 31.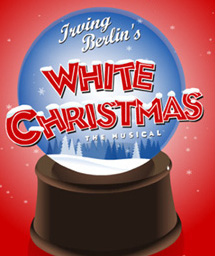 Based on the 1954 movie musical of the same name, this spectacular stage adaptation will star Stephen Bogardus and Michael Gruber as soldiers turned song-and-dance duo Bob Wallace (Bing Crosby in the film) and Phil Davis (Danny Kaye in the film), with Kerry O'Malley and Nadine Isenegger as sisters Betty (Rosemary Clooney in the film) and Judy Haynes (Vera-Ellen in the film).
Irving Berlin's "White Christmas" made its stage debut during the 2004 holiday season in San Francisco, garnering rave reviews and establishing itself as a holiday tradition. This year, there will be three sit-down productions playing around the country -- in Boston, San Francisco and Los Angeles.
An interesting side note is that all three companies -- more than 100 performers -- are rehearsing together in New York at the same time, in the same building. Led by Tony Award winning director Walter Bobbie, the massive rehearsal process involves three musical conductors and nine stage managers. Between the three productions, the wardrobe department is overseeing the maintenance of some 900 costumes.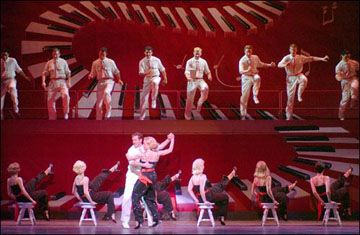 The timeless musical tells the story of a song-and-dance duo who put on a holiday show in a picturesque Vermont inn. Along the way, they find love, and a lot of singing and dancing. The production showcases many Berlin classics, including "Counting Your Blessings," " Sisters," "How Deep is the Ocean" and what is arguably the most popular holiday song of all time, "White Christmas."
Stephen Bogardus' (Bob Wallace) credits span television, film and theater. On Broadway, he has performed in "Man of La Mancha," "James Joyce's The Dead," "High Society," "King David," "Love! Valour! Compassion!" (Tony nom., Obie Award), "Falsettos," "Grapes of Wrath," "Les Miserables" and "West Side Story." His film credits include "Alchemy," "Love! Valour! Compassion!," "States of Control" and "Second Best." On TV, he has appeared in "Ed," "Law and Order: SVU," "Law and Order: CI," "Now and Again" and "New York Undercover."
Kerry O'Malley (Betty Haynes) numbers among her Broadway credits "Into the Woods" revival (The Baker's Wife, Outer Critics Circle and Drama Desk nominations, cast album), "Annie Get Your Gun," "Cyrano" and "Translations." Her TV credits include series regular roles on "Costello" and "The Mike O'Malley Show," with recurring roles on Showtime's upcoming "Brotherhood," "King of Queens," "Charmed," "Without a Trace," "NYPD Blue," "Law & Order" and "Brooklyn South." On the big screen, she was seen in "Rounders." Miss O'Malley is a native of Nashua, NH.
Michael Gruber's (Phil Davis) Broadway credits include "A Chorus Line," "Cats," "The Wizard of Oz," "Kiss Me Kate" and original companies of "Swing!," "Miss Saigon," "Laughing Room Only" and "My Favorite Year."
Nadine Isenegger (Judy Haynes) has performed on Broadway in "42nd Street," "Kiss Me Kate," "Follies" and "Cats" as well as in the national tours of "42nd Street," "Titantic" and "Fame." Her film credits include "Deconstructing Harry," "Cemetery Club" and "Bob Roberts."
Terry Beaver will play the role of General Waverly (Dean Jagger in the film version). Beaver has been seen on Broadway in "Democracy," "Twentieth Century," "Henry IV," "The Man Who Came to Dinner" and "The Last Night of Ballyhoo" (Tony nom., Outer Critics Circle award). He numbers among his television credits "The West Wing," "Third Watch," "Law and Order," and "Law and Order: SVU."
Award winning actor/singer Karen Morrow will play the role of Martha Watson. Morrow starred on Broadway in "I Had A Ball," "A Joyful Noise," "I'm Solomon," "Music, Music," "The Selling of The President," "The Grass Harp," "The Mystery of Edwin Drood" and most recently in the national tour of "Showboat." On TV, she starred as a regular on "The Jim Nabors Hour," "Tabitha," and "Ladies Man."
The role of Ralph Sheldrake will be played by John Anthony. His Broadway/national tour credits include "42nd St.," "Titanic," "Sunset Blvd.," Stephen Sondheim's "Passion," "Annie Get Your Gun" and "Pal Joey." His film credits include "The Producers" and "Nothing In Common" with Tom Hanks and Jackie Gleason.
The role of the General's granddaughter, Susan Waverly, will be played by Dover native Katherine Doherty.
For tickets and information, stop by the Wang box office, 270 Tremont Street in Boston, call 800-447-7400 or visit telecharge.com.