Trinity Rep in Providence will celebrate the magic of the holiday season with their 29th annual production of Charles Dickens' "A Christmas Carol." Adapted by Adrian Hall and Richard Cumming, the production is under the direction of acting artistic director Amanda Dehnert.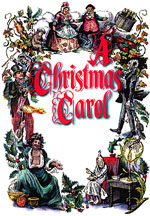 There will be two separate casts of "A Christmas Carol" to meet audience demand for the show. The production features William Damkoehler and Timothy Crowe in the role of the miserly Scrooge. Performances run November 11th - December 24th.

In Dickens' timeless tale, miserly businessman Ebenezer Scrooge is confronted on Christmas Eve by the eerie apparition of his deceased business partner, Jacob Marley. The ghost bears a stern warning that Scrooge has but one last chance to mend the errors of his ways. After three spirits visit him on Christmas Eve, Scrooge seizes the chance to redeem his ways and greets Christmas morning with newfound hope.
When asked about this year's production, director Amanda Dehnert comments, "'A Christmas Carol' is an incredible, beautiful, and necessary story. Scrooge has forgotten what it is to love, to give, to be human – and to see him get a second chance at life – this is what draws us to tell this story."
She added, "Now more than ever, we need to come together and celebrate the ties that bind us all: family and love, reaching out and connecting. In the end, it isn't about a rich man learning to give: it's about a lost soul who is redeemed, and that redemption just lifts your heart right out of your seat."
The two rotating casts include Trinity Rep company members Janice Duclos, Mauro Hantman, Cynthia Strickland, Fred Sullivan, Jr., Stephen Thorne, Rachael Warren and Joe Wilson, Jr. along with musicians Kevin Fallon, Steve Jobe, Chris Lussier, Rachel Maloney and Chris Turner.
Rounding out the two casts are local actors D'Arcy Dersham, Richard Donelly and Mark Sutch and Brown/Trinity Rep consortium students Samara Abrams, Lucy Boyle, Tina Chilip, Paul Coffey, Jessica Crandall, Rick Dildine, Robin Galloway, Beth Hallaren, Brian Houtz, Jordan Kaplan and Meagan Prahl.

For tickets and information, stop by the box office at 201 Washington Street in Providence, call 401-351-4242 or visit www.trinityrep.com.