A Review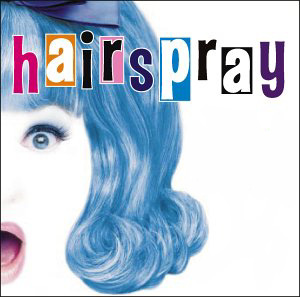 You Can't Stop the Beat !
By R. J. Donovan
Grab your teasing comb kids, "Hairspray" is back in town.
Having won the Best Musical Tony in 2003 (along with seven others), the show's been here once before, with a different (and incredibly sharp) cast.
Does the new cast hold up? Sure they do. There are a few jokes that don't connect the way they might, but the production sounds great, looks sharp and delivers a tight night of silly fun.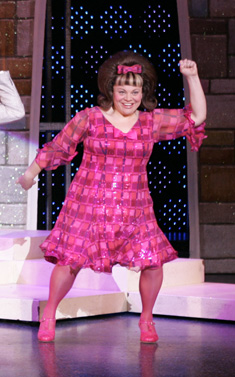 Based on the John Waters cult film of the same name, "Hairspray" is set in 60s Baltimore. Plus-sized teen Tracy Turnblad (Keala Settle, at left) is a gal with big hair and an even bigger heart. She's also is devoted to Baltimore's hottest TV dance show, "The Corny Collins Show."
She'd love to dance on the show, but she's not one of the cool kids. Until open auditions are announced. Then she cuts class, heads to the studio and gives it a whirl. She doesn't make the cut (of course), but she does meet the show's resident teen heart-throb (of course), with whom she instantly falls in love (of course!).
By the final curtain, she's been transformed from outsider to trend-setting teen celebrity, fought for dancing integration, found true love and learned more than enough lessons for a gal her age -- all while bopping to a bright and happy musical score by Marc Shaiman and Scott Wittman.
Moving things along at a brisk pace are the sharp book by Mark O'Donnell and Thomas Meehan, crisp direction by Broadway vet Jack O'Brien and great choreography by Jerry Mitchell.
When "Hairspray" first opened in New York, the hook was having Harvey Firestein play Tracy's Mom, Edna Turnblad (portrayed by drag queen Divine in the original film). Subsequent Ednas have also men, including "center square" Bruce Vilanch, who was delightful as Edna in the last touring company to hit Boston.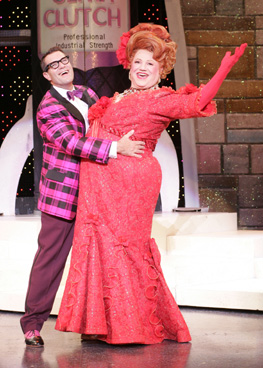 This time around, J. P. Dougherty (at left with Jim J. Bullock (of "Too Close For Comfort" fame) is Tracy's hefty mother figure. Throaty and funny and witheringly caustic, Dougherty is fully in the image of Divine in his earlier scenes. Once he (she) transforms from bobby-pinned house-frau to fantabulous fashion plate, he's all his own creation.
Dougherty and Bullock (as Tracy's good-hearted Dad, Wilbur) make a warm and endearing couple in their Act Two showstopping duet, "Timeless To Me."
As Tracy, Keala Settle is a dynamo who's on her feet for pretty much the entire two plus hours. She brings a strong singing voice, a nice comic touch and an energetic dance style to the production.
The rest of the cast is equally good. Caissie Levy is a very funny Penny Pingleton, Susan Henley has her claws out as Producer-From-Hell and former Miss Baltimore Crabs, Velma Von Tussle; Aaron Tveit brings a big voice to Link, heartthrob of the show; Paul McQuillan is pitcher-ster Corny Collins; Charlotte Crossley is the big voiced Motormouth Maybelle; and Alan Mingo Jr. is Seaweed (who was Simba in the Opera House production of "The Lion King." As well, Naturi Naughton has a powerhouse sound as Inez, and Jane Blass is hysterical in the smaller roles of the gym teacher, prison matron and Penny's tight-assed Mom.
Shaman and Wittman have whipped up a bouncy, infectious score that echoes the best of the '60s while remaining true to the nature of the show. Their "best of the best" includes "Welcome To The '60s," "Mama, I'm A Big Girl Now," "I Know Where I've Been" and the splashy finale "You Can't Stop The Beat." Also very touching (and funny) is "I Can Hear The Bells," which finds Tracy imagining a complete and perfect life with Link in the mere blink of a moment.
The totally '60s set is by David Rockwell, costumes are by William Ivy Long and the eye-popping lighting is by Kenneth Posner.
Bottom line, beehives are back at The Opera House.
"Hairspray" is at The Opera House, 539 Washington Street in Boston, through Oct 16. For information, call 617-931-2787.
Production Photos: Chris Bennion
-- OnStage Boston
10/8/05