A Review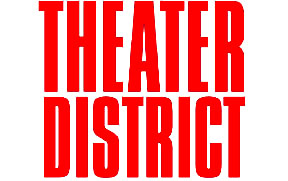 A Day In The Life . . .
By R. J. Donovan
Richard Kramer, who earned his credits writing such TV shows as "Once and Again," "My So-Called Life" and "thirtysomething," has turned his typewriter toward the theater. The result is "Theater District," an 80-minute look at one day in the life of a New York family linked by love, divorce and friendship.
Having had a few mountings elsewhere, "Theater District" is receiving its New England premiere as the season opener at SpeakEasy Stage, through Oct 29 at the Calderwood Pavilion at the Boston Center for the Arts. Wes Savick directs.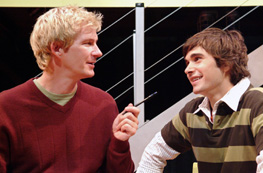 It's always good news when a new play comes to town. And "Theater District" is well worth a look. The plot swirls about George (Bill Brochtrup of "NYPD Blue" fame, left, with Edward Tournier), an actor turned restaurateur, who lives with his partner, Kenny, who's got a son, Wesley, from his marriage with his ex-wife, Lola, a big time New York uber-editor, who's now married to Ben. Rounding out the character list is Mario head waiter at George's restaurant, and Theo, Wesley's best friend.
Wesley lives part-time with Mom and part-time with Dad. When Theo, his best friend, comes out in the middle of a school assembly, Wesley ponders the question of whether being gay is a choice.
Bright, warm and funny, "Theater District" has its high spots. Unfortunately, they are sometimes offset by the occasional choppy edge as the story transitions from one moment to the next.
As the center of it all is George, the go-to guy who always seems to make things work. His life may not be totally in place, but he's always where needed to nurture, smooth things over and guide the course. Brochtrup is calm, confident and understated as the man who can always be counted on. Everyone should have someone like him in their life.
While his restaurant is not the setting of every scene, it's the restaurant that serves as the link for all the characters, whether via initial meetings, after-school work assignments or family interventions.
As the restaurant is located in New York's theater district and owned by a former actor, the play is filled with theatrical references from Merman and Verdon to "Follies" and Jacob's Pillow.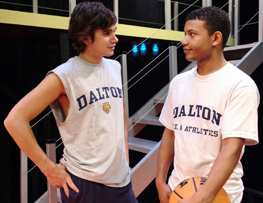 The best written and presented characters in the show are the two young men -- Wesley, played by Edward Tournier, and the smaller role of Theo, played by Jaime Cepero III. Both actors (at left) deliver very real, accessible performances.
Liam Torres is George's partner Kenny, a connected and involved gay-rights attorney who's out fighting the fight for his clients and organizations. Yet, when faced with common family problems, his reaction is silent, wide-eyed noncompliance. This not only works against character, but spills over to cause you to question the believability of Torres and Brochtrup as a couple.
As the Mom, Melinda Lopez hasn't been given a great deal to work with, but she makes the most of what's there. Neil A. Casey fires in a sharp performance as the caustic Mario. And Barlow Adamson is Ben, who doesn't have a lot to do until a nice solo scene with Wesley late in the show.
Richard Kramer's gift, both in his television work and here, is his sensitivity in painting relationships, good and bad. If he can smooth a few of the crinkled moments, he'll have a very compelling portrait.
"Theater District " is at Calderwood Pavilion at the Boston Center for the Arts, 527 Tremont Street in Boston, through Oct 29. For information, call 617-933-8600.
Production Photos: Craig Bailey / Perspective Photo
-- OnStage Boston
10/7/05