A Review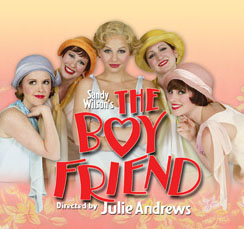 Sweet Hearts
By R. J. Donovan
The twenties are back at The Shubert as Sandy Wilson's "The Boy Friend" Charlestons in for a brief visit on its national tour. The production is a bright and enthusiastic one, and the cast looks genuinely happy to be a part of it all. But the true calling card for this particular production is the gal directing the show. Or should I say, the Dame. Dame Julie Andrews to be specific.
Long before she came to iconic status as Mary, Maria and Millie (to name just the "M's"), Andrews made her Broadway debut in this show back in the fifties. So there's a certain pluck to the heartstrings when one considers her pulling the strings for this new production.
"The Boy Friend" has the look and feel of a musical nestled in a small, charming theater. A theater much like, oh, The Goodspeed Opera House, of which I have always been a champion. So it's no surprise that The Goodspeed is the show's main producer.
Andrews first directed "The Boy Friend" two seasons ago at The Bay Street Theatre in Sag Harbor. Her daughter Emma Walton is one of the co-founders there, so the turf was a welcoming one. The folks from Goodspeed later got involved and a larger production and tour were put into place.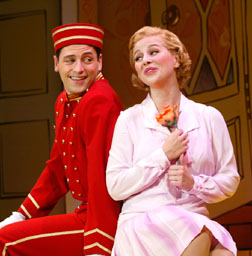 As with shows of its time, "The Boy Friend" offers only the thinnest of stories. Sweet Polly is a rich English girl at a private school in the south of France. She fears that boys are only interested in her for her eventual fortune, yet she's just got to have a boy friend.
So when Tony, a lowly messenger boy, catches her fancy, she quickly tells him she is a mere secretary. True love follows in the boy meets girl, boy loses girl, boy gets girl back mode. Because when Tony's "messenger" identity is later revealed to be a cover for the fact that he's actually a millionaire looking for true love, a happily ever after ending is assured.
The production has a colorful cartoon-y look to it, thanks to the artful hand of scenic designer Tony Walton. That theme is completed by Walton and Rachel Navarro's snazzy costumes, particularly in the carnival scene for which everyone is decked out in black and white with orange-red accents (mirrored by Chinese lanterns hanging overhead).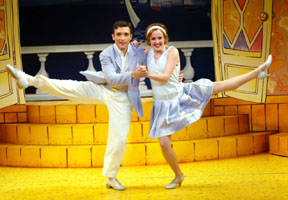 The talented young cast is filled with freshly scrubbed faces. Of particular note are Andrea Chamberlain as Maisie and Rick Faugno as Bobby Van Husen. Their shot at the solo spotlight comes in the sharp "Won't You Charleston With Me" (at left). They also lead choreographer John DeLuca's larger dance numbers with style and energy, including "The Riviera."
Jessica Grove (top photo) is Polly -- Andrews' original role, Paul Carlin is her right-and-proper father; Sean Palmer is Tony (top, with Grove); Nancy Hess is Madame Dubonnet, the head mistress of the school; and Bethe Austin is the squeaky-voiced and heavily French-accented maid, Hortense. Austin kicks up her heels with "Nicer in Nice."
Rounding out the company are Drew Eshelman and Darcy Pulliam as Tony's veddy-British Lord and Lady parents. Eshelman gets a chance to show off with Kirsten Wyatt in the sweet "It's Never Too Late To Fall In Love."
To end where we began, "The Boy Friend" is a show of a certain time -- short on story but overflowing with toe-tapping music, most of it with built-in encores. In addition to the previously mentioned numbers, high points include "I Could Be Happy With You," "A Room In Bloomsbury," "Fancy Forgetting," "Perfect Young Ladies," "Safety in Numbers" and the title song.
Happily, it's all presented with polish under Julie Andrews' watchful eye.
"The Boy Friend" is at The Shubert Theatre, 265 Tremont Street in Boston, through Oct 23. For information, call 800-447-7400.
Production photos: Diane Sobolewski
-- OnStage Boston
10/14/05