On July 14, 2005, a fire destroyed the auditorium at the award-winning North Shore Music Theatre, forcing management to shut down its production of "Cinderella" and move its upcoming productions of "Abyssinia" and "Camelot" to Boston's Shubert Theatre.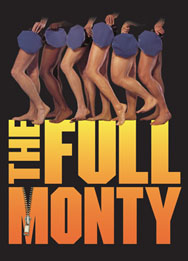 However, on November 1, NSMT will return to its renovated home in Beverly and present an all new production of the musical comedy "The Full Monty," created specifically for the unique theatre in-the-round. Performances are set for November 1 - 20.

"Recovering from the fire and re-opening our doors in just over 3 months is truly a testament to the drive, determination and passion of the entire staff and Board of Trustees at NSMT," said Jon Kimbell, Artistic Director and Executive Producer. "I could not be more proud."

"The Full Monty" is the funny but heartfelt story of six unemployed steelworkers in Buffalo, New York, who go to great lengths to make some extra cash and help out a friend in trouble. When a local male strip show – whose dancers venture down to their G-strings – becomes a hit with the local women, the cash-strapped factory workers figure they can really cash in if they go "the full monty." The buddies, desperate for self-respect, must overcome their fears, their nerves, and their clothes for a shot at success.
With book by Tony Award winner Terrence McNally ("Ragtime," "Kiss of the Spiderwoman") and music and lyrics by composer David Yazbek ("Dirty Rotten Scoundrels"), "The Full Monty," is based on the record- breaking 1997 Academy Award-nominated hit film of the same name.

Four-time Tony Award-winning writer McNally adapted the screen hit for the stage while adding his own unique brand of American comedy to the story. "The show is about friendship, about being a parent," said McNally. "It's also about an image-obsessed society that says you have to look like Brad Pitt. This show says quite the opposite. It celebrates everybody for exactly who they are."

Composer David Yazbek, winner of the 2001 Drama Desk Award, explains, "The Full Monty," is a sports story. It's not about stripping. It's a bunch of guys who get together and form a team. There are ups and downs, and, in the end, they win."

The men of "The Full Monty" will be Sebastian Arcelus, Craig Bennett, George Dvorsky, Bill English, Milton Craig Nealy and Darren Ritchie.

The production will also feature Beth Beyers, Susann Fletcher, Christian Johansen, Merle Louise and Deborah Tranelli.

Rounding out the 21 member cast will be Michael Scott Harris, Charis Leos, Colleen Longshaw, Leo Nouhan, Dan Puck, Rommy Sandhu, Daniel Spiotta, Sarah Stiles, Jennifer Taylor and Nick Wishnatzki.
North Shore Music Theatre has also scheduled the following free events for "The Full Monty:"

Tuesday, November 8: Meet the Theatre
A post show audience discussion with the artists.
Sunday, November 13: Spotlight on History
A free pre-show discussion focusing on historical issues related to the performance.
Thursday, November 17: Out at the North Shore
An evening for the Gay and Lesbian Community, with a post show reception
Saturday, November 19: Meet the Theatre
A post show audience discussion with the artists, following the 2 p.m. performance.
For tickets and information call 978- 232-7200 or visit www.nsmt.org.