After a fourteen-year absence, the words of Tennessee Williams will once again be heard on stage at Trinity Rep in Providence via a production of "Suddenly Last Summer." Never before seen at Trinity, the production is reportedly the most heavily-subscribed play of the season. Performances run September 30 through November 6 at the Dowling Theater.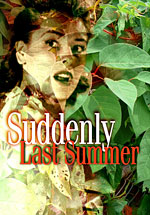 The time is 1936, the place New Orleans. No one believes Catharine's first-hand account of her cousin's recent death abroad. Sebastian, a poet, chose Catharine instead of his mother as a travel companion this year. Meanwhile, Mrs. Venable will stop at nothing to silence her niece.
Director Mark Sutch comments, "'Suddenly Last Summer' is both frightening and beautiful. The plot is certainly full of horror and mystery, but Williams also achieves a kind of poetry within it, and offers a glimmer of hope at the end. Only an hour and fifteen minutes long, it has an intensity and momentum which is rare in any American play of its time."
Only seven years after he graduated from college, Tennessee Williams found success on Broadway with "The Glass Menagerie" in 1945. His style was known as "southern gothic," using extraordinary events to tell his stories - as did Eudora Welty, William Faulkner and others. For him, southern gothic portrayed "an intuition, an underlying dreadfulness in modern experience."
Williams wrote "Suddenly Last Summer" in 1957 after beginning psychoanalysis. He described "a catharsis, a final fling with violence." Some of the play's themes are autobiographical; his sister Rose received one of the first lobotomies in the United States. He opened "Suddenly Last Summer" off-Broadway, where it ran for 216 performances. The heavily censored film adaptation was released in 1959. Starring Elizabeth Taylor, Montgomery Clift and Katharine Hepburn, its power was diminished as it could not deliver the high gothic experience of a theatrical production.
The Providence cast includes company members Barbara Meek as Mrs. Venable, Fred Sullivan, Jr. as Dr. Cukrowicz, Janice Duclos as Sister Felicity, and Cynthia Strickland as Mrs. Holly. Rounding out the cast is recent Brown/Trinity Rep Consortium grad Miriam Silverman as Catharine Holly, and two current Consortium students Robin Galloway (as Miss Foxhill) and Matt Robinson (as George Holly).

Mark Sutch directed last season's "A Christmas Carol." He is also producer of the Trinity Summer Shakespeare Project, for which he has directed "Macbeth," "The Comedy of Errors," and "The Two Gentlemen of Verona," and has appeared in "Romeo and Juliet," "Twelfth Night," "Julius Caesar" and "The Taming of the Shrew."
In addition to regular priced tickets, several discount programs are available. New this year is a $20 discounted admission for all educators, military, firefighters & police (valid ID required). As well, the first performance at 8 PM on September 30 is "Pay What You Can" Night", sponsored by The Rhode Island Lottery. PWYC tickets go on sale in the lobby at 7 PM; limit one per person.
For tickets and information, stop by the box office at 201 Washington Street in Providence, call 401-351-4242 or visit www.trinityrep.com.
-- OnStage Boston