A Review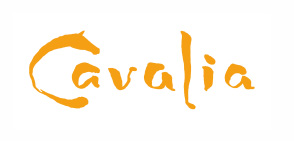 Equestrian Poetry
By R. J. Donovan
Making its East Coast debut, "Cavalia: A Magical Encounter Between Horse and Man" has opened in a towering white-top tent at Suffolk Downs. Start to finish, it's a celebration of horses -- majestic, graceful and elegant. As their slogan says, "The horse is God's gift to man."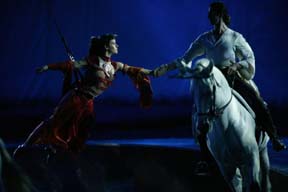 Coming from Normand Latourelle, one of the co-creators of Cirque de Soleil, "Cavalia" borrows heavily from Cirque's look and sound -- singular vocalist, ethereal music, acrobats flying through the air, and so on.
But while Cirque doesn't have any animals, "Cavalia's" focus is all about them. Sure, it's got bungee jumpers and aerialists and multiple trampolines (for the acrobats, not the horses). But it's sole purpose is to show off the power and beautiful of the horses -- which number 50, including 25 stallions.
With Cirque, the audience clusters around a semicircular thrust stage. Here they sit on high risers facing a 160 foot wide performance area. This allows for an incredible sequence of riding, with the horses shooting into the tent at top speed. (As I wondered to the friend I was with, how far away did they have to start in order to build up to that pace by the time they barreled through the flaps in the tent?)
Framed by flowing drapery, an enormous cyclorama at the rear of the performance area is put to dramatic use with magnificent projections that include everything from ancient statuary to abstract paintings, landscapes, a forest through the seasons and time lapse photography. A sequence portraying Autumn is particularly vivid. Images are also projected on a shimmering curtain of rain. Early on, there's a small pond onstage that disappears in a blink. And at one point, it even snows on the audience.
But this is not an evening of mere circus tricks. Rather, it's showmanship at its finest, with the equestrians showing off as they might at an official competition. They march, canter, gallop, race and go through dressage display. One minute it's part rollicking rodeo, the next its all spectacle. The Roman racing, with the riders straddling two horses each, is an instant crowd pleaser.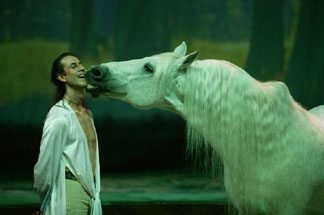 At the center of it all are famed "horse whisper" Frederic Pignon (left), and his wife, Magali Delgado (below), an award winning rider and trainer herself. The couple serve as "Cavalia's" equestrian co-directors. (The production itself it directed by Erick Villeneuve.)
In three separate "Liberty" sequences, Pignon puts his four-legged friends through their paces without benefit of saddle or bridle. They run freely, seemingly controlled by his smile and smallest gesture.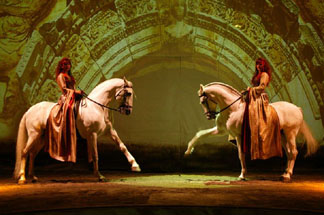 Delgado (whose parents where breeders of Lusitano horses in southern France) is striking when she and her sister Estelle mount twin white stallions to present "Pas de Deux" (pictured at left) a mesmerizing mirror routine in perfect yet elegant synchronization.
"Cavalia's" title promises "a magical encounter between horse and man." The evening is just that.
"Cavalia" is at Suffolk Downs, at the junctions of Routes 1A and 145 in Boston, through October 9. For tickets, call 866-999-8111 or visit www.cavalia.net.
Production Photos: Frederic Chehu
-- OnStage Boston
09/09/05