Since its inception in 1992, The Theater Offensive's "Out On The Edge" Festival of Queer Theater has become one of the premiere queer theater festivals in the world -- and the only one in New England.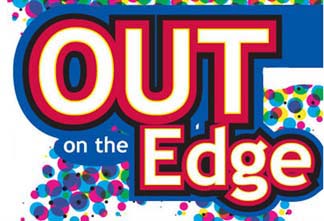 The 14th Annual "Out On The Edge" Festival, running October 13 - November 13 at the Boston Center for the Arts, will feature writer, performer and dancer Paul Bonin-Rodriguez in "Fringe and Fringe Ability" (Thursday, October 13 through Sunday, October 16), Jackie Hoffman (cabaret star and Broadway's "Hairspray") in "The Kvetching Continues" (Wednesday, October 19 through Sunday, October 23), and tour de force performer Varla Jean Merman in the recently expanded "Girl With A Pearl Necklace: An Act Of Love" (Tuesday, October 25 through Saturday, October 29).
Dedicated to developing new works by local LGBT artists, the final two weekends of the Festival will feature The Theater Offensive's Plays At Work staged readings. Works to be presented include David Valdes Greenwood's "Constant," Letta Neely's "Shackles and Sugar" and Melissa Li's "Surviving The Nian."
This year's festival will open with Paul Bonin-Rodriguez's "Fringe and Fringe Ability." Bonin-Rodriguez's story of John Roy Hobson has been considered a unique voice, a "gay Huck Finn," providing comic relief for a conservative age. Directed by Steve Bailey, the production continues Bonin-Rodriguez's sprawling "Texas Trinity" saga. Taking place in the wake of the 2004 elections, "Fringe" finds Johnny reunited with favorite characters from past shows and meeting new ones, with all of them working together to put the down low on the uptight citizens of the President's home state.
This presentation of "Fringe and Fringe Ability" is one of a series of programs designed by the National Performance Network. NPN is an independent organization begun by Dance Theater Workshop and is comprised of arts organizations in 42 cities and 27 states. NPN is made possible through major funding from the Doris Duke Charitable Foundation, Ford Foundation, and the National Endowment for the Arts.
Next up is "The Kvetching Continues," the longest running show in the history of New York's celebrated Joe's Pub / Public Theater, Starring Broadway and film actress Jackie Hoffman and directed by Michael Schirali, this funny and endearing gay-themed Jewish cabaret act elevates complaining to an art form. Mixing original songs and humorous monologues, Jackie skewers backstage Broadway and "goes there" on every taboo subject in the book. How provocative is this show? Even John Waters told her to tone it down!
According to The Los Angeles Times, Varla Jean Merman is "an indisputable force of nature who displays the dazzling force of a cyclone touching down in a sequin factory."Newly expanded and boasting a sold-out engagement at the Sydney Opera House, Varla Jean Merman's "Girl With A Pearl Necklace: An Act Of Love" is directed by Michael Schirali. Varla's biological clock is ticking and she is desperate to get married. Will Varla be institutionalized in a state of matrimony or installed in a state institution? Will the girl with a pearl necklace find that special someone who will get under her skin and see through the Vermeer?
When Fernando proposes to his boyfriend in David Valdes Greenwood's "Constant," he pops more than the question as the specter of legal marriage bursts the bubble of a ten-year relationship. The big bang reverberates throughout their close-knit circle of family, friends and lovers, colliding through time and space, with the fate of their union hanging -- impossibly -- on astrophysics. David Valdes Greenwood's plays have been seen in 15 states and include "Wonderland" (2004 Portland Stage Little Festival of the Unexpected), "Brave Navigator" (published by Baker's Plays), "Paradise of Earthworms" (commissioned by Ensemble Studio Theatre/Sloan Project), "Day Eight: Snow Globe" (anthologized by Baker's Plays) and the previous Heideman finalist "Office Masaai."
"Shackles & Sugar" by Letta Neely depicts the love between two Black women, both field hands on a plantation, as they live their lives branded as slaves. How far will they go to reach freedom -- of all kinds? Fast forward to present day and how the 150-year-old story of these women echoes in the life of a modern-day Black businesswoman. Letta Neely is a New England area activist and award winning poet and playwright.
Melissa Li's musical "Surviving the Nian" follows Kaylin Woo as she returns home to Hong Kong for Chinese New Year with her Black lover in tow. Dashing family expectations, Kaylin reveals she is NOT a business professional, but a jazz performer---and a lesbian, to boot. After dashing her family's expectations and betraying her lover's trust, Kaylin scrambles to salvage her relationships. Melissa Li is a Boston-based professional folk musician, film artist and emerging playwright.
This year's "Out On The Edge" Festival is made possible by The Theater Offensive's beloved community of supporters including: Boston Cultural Council, The Boston Foundation, Cloud Foundation, Common Stream Foundation, Funding Exchange, Massachusetts Cultural Council (a state agency which also receives funding from the National Endowment for the Arts); Haymarket People's Fund; LEF Foundation; Open Meadows' Patsy Lu Fund; Out Fund of The Funding Exchange; and Astraea Lesbian Fund for Justice.
The Theater Offensive is a resident company of the Boston Center for the Arts. For tickets and information, call 617-933-8600 or visit www.bostontheatrescene.com.
-- OnStage Boston