Trinity Rep in Providence will kick off its 2005-2006 season with the Rupert Holmes musical, "The Mystery of Edwin Drood," based on a "Lost novel" by Charles Dickens. Decades before "American Idol," "The Mystery of Edwin Drood" put the audience in the driver's seat, allowing them to vote on the ending performed each night! Directed by Amanda Dehnert, with choreography by Sharon Jenkins, performances run September 9 through October 9.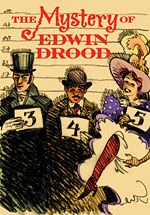 "The Mystery of Edwin Drood" was originally produced by Joseph Papp and won five Tony Awards in 1986 including Best Musical, Best Book and Best Original Score.
"Drood" blends the intricate Dickensian mystery with rollicking song-and-dance numbers and a "Noises Off"-style backstage comedy. John Jasper, a choirmaster reminiscent of Jekyll-and-Hyde, is smitten with Rosa Bud. However, she is engaged to Jasper's nephew, Edwin Drood. Then the mysterious twins Neville and Helena Landless arrive from the Far East. And on Christmas Eve, Drood disappears. Was it murder - and if so, who was the culprit?
"The Mystery of Edwin Drood" gives the audience the final vote in deciding not only who committed the murder, but also which characters end up happily ever as the show's (sometimes unlikely) lovebirds.
"The unexpected is what makes live theater so thrilling," says Amanda Dehnert, "and 'The Mystery Of Edwin Drood' is the ultimate unexpected pleasure. On one hand, you have some of Dickens' most outrageous characters thrust into extreme situations; and on the other, you have a great game of chance, where the audience creates the ending each and every night. For all of us at Trinity, it reminds us why we're here -- we make theater for the audience and with the audience. Fantastic, frightening, and funny, 'Drood' is a wild ride - then we hand you the reins, and you decide where it goes. Anything can happen on the night you're there -- and it will."
The cast includes Trinity Rep Company members Rachael Warren, Brian McEleney, William Damkoehler, Joe Wilson, Jr., Anne Scurria, Mauro Hantman, Phyllis Kay, Timothy Crowe, Stephen Thorne and Stephen Berenson. Rounding out the cast are three Brown/Trinity Rep consortium students Jessie Austrian, Elizabeth Halaren and Megan Prahl; and musicians Kevin Fallon and Steve Jobe.

Rupert Holmes, son of an Englishwoman and an American World War II serviceman, spent much of his childhood in the lively world of the English theater. He graduated from Manhattan School of Music and was a successful pop composer by the early 1970s, perhaps best known for "Escape/The Pina Colada Song." He mined the rich material of the British theater for "Drood," incorporating the music hall style (ancestor to American vaudeville), the well-acquainted resident company of actors, and the "principal boy" character played by an attractive young woman (popular in Britain generations before Mary Martin in "Peter Pan").
For tickets and information, stop by the box office at 201 Washington Street in Providence, call 401-351-4242 or visit www.trinityrep.com.
-- OnStage Boston