Dream KFC. Eat KFC. Love KFC.
Hijinx Unlimited begins its 2005-2006 season with the world premiere of "Spring Chicken or When I Flew the Coop," a comedy by Pennsylvanian playwright Chris Davis.
Louisa Richards directs the production which plays October 13 through 23, at the Devanaughn Theatre. Richards has previously directed at the National Theater Institute and Devanaughn Theatre's 3rd Annual Dragonfly Festival.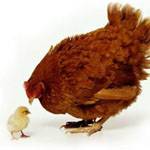 Loosely based on Davis' experiences in South Africa, "Spring Chicken or When I Flew the Coop" is a celebration of the language, survival and friendship of five men trying to reach a KFC. The play satirizes corporations profiting from poverty, dissects world ignorance (and its lusts), and epitomizes the capitalistic hopelessness that pervades society today.
The Devanaughn Theater is located at 791 Tremont Street in Boston. For tickets and information, call or visit www.hijinxunlimited.com.
-- OnStage Boston