North Shore Music Theatre's all-new production of Lerner and Loewe's classic musical "Camelot" will premiere at Boston's Shubert Theatre, coincidently the same theatre the musical played during its pre-Broadway tryout in 1960 with Richard Burton, Julie Andrews and Robert Goulet. The change in venue is due to the July 14 fire at the popular Beverly theatre-in-the-round. The production will run through October 9.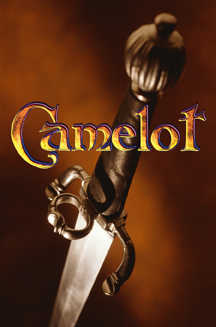 Based on the book The Once and Future King, "Camelot" takes audiences to an idyllic kingdom where King Arthur tries to create a perfect world for his beloved Queen Guenevere. However, when Guenevere falls in love with Lancelot, Arthur's trusted friend and fellow Knight of the Round Table, the utopian kingdom cannot survive. Or can it?
The Lerner and Loewe score combines lyrical simplicity with lush romanticism beautifully captured in such numbers as "If Ever I Would Leave You," "The Simple Joys of Maidenhood," "The Lusty Month of May" and the witty "I Wonder What the King is Doing Tonight."

Jon Kimbell, NSMT's Artistic Director and Executive Producer,commented, "'Camelot' has always been musical pageantry set amidst the splendor and magic of King Arthur's court with a powerful and tragic love story at its heart." Kimbell adds that in the hands of the show's visionary director, Gabriel Barre, "audiences will see 'Camelot' in a way they have never seen it before -- it will defiantly have an edge." The theater adds that the production includes nudity.

"Camelot" features Joseph Dellger (Arthur), Nili Bassman (Guenevere), Maxime Alvarez de Toledo (Lancelot), Josh Grisetti (Mordred), David Coffee (Pellinore) and Adam Wylie (Merlin and Tom of Warwick).
Director Gabriel Barre also directed North Shore's acclaimed productions of "Tom Jones" and "Memphis." Other credits include the national tour of Rodgers & Hammerstein's "Cinderella" and the Manhattan Theatre Club's acclaimed production of "The Wild Party," which was nominated for numerous Drama Desk and Outer Critics Circle Awards. His off-Broadway credits include "Summer of '42," "Stars In Your Eyes" and the Goodspeed production of Frank Wildhorn's "Camille Claudel" starring Linda Eder.
North Shore Music Theatre expects to present its next scheduled production, "The Full Monty," back home in Beverly. The theater has established The Encore Fund to ensure the theater can keep its doors open during the next six months.
For information and tickets, call Telecharge at 800-447-7400 or visit www.wangcenter.org. North Shore subscribers should call 978-232-7200.
-- OnStage Boston