The Boston theater community will come together on Monday, October 24, 2005, for a fundraising event in support of the fire ravaged North Shore Music Theatre.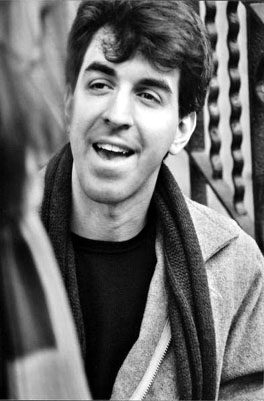 Tony Award-winning composer Jason Robert Brown (left), performer Lauren Kennedy, and Brown's band, The Caucasian Rhythm Kings, will join Boston area performers on stage for a one-night performance of Jason Robert Brown's "Songs for a New World." The production will be held at The John Hancock Hall, 180 Berkeley Street in Boston, at 8:00 PM.
Tony McLean, former President of Broadway in Boston/Clear Channel Entertainment, will direct the concert with Paul S. Katz as musical director. McLean will also serve as producer in association with North Shore Music Theater's Matt Kidd. The cast will be accompanied by a full 35-piece symphonic orchestra comprised of area musicians.
Without a specific plot, "Songs" is a series of musical numbers, written by Brown at different times, but ultimately about discovery in the face of the unknown. The best known number is no doubt "Stars and the Moon," which had been popularized by Betty Buckley. Also of note are the holiday paraody "Surabaya-Santa," "On the Deck of a Spanish Sailing Ship," the touching "I'd Give It All For You" and "I'm Not Afraid of Anything." "Songs for A New World" originally premiered in 1995 at the WPA Theatre. Brown has since gone on to acclaim for "Parade" and most recently for the stage version of "Urban Cowboy" on Broadway.
The July 14th fire at North Shore destroyed the theater's stage, orchestra pit, lighting, sound equipment and interior, including all 1,800 seats. Proceeds from the "Songs for a New World" performance will go toward NSMT's Encore Fund, which was established following the fire to secure $7 million in gifts and pledges by the end of this year. Funds are needed to ensure that NSMT can keep its doors open during the next six months and beyond, and to keep their staff intact so they can continue to provide important programming for schools and the community.
The Encore Fund will also be used to address lost revenue from "Cinderella," the Children's Summer Musical Series, canceled concerts, and the additional costs of producing two musicals at The Shubert Theater in Boston this fall.

Hailed as "one of Broadway's smartest and most sophisticated songwriters since Stephen Sondheim," by the Philadelphia Inquirer, Jason Robert Brown received great acclaim for "Parade" at Lincoln Center and more recently created the score for the stage version of "Urban Cowboy" on Broadway. He has just released "Wearing Someone Else's Clothes," now available on Sh-K-Boom Records.
Lauren Kennedy has appeared on Broadway in "Les Miserables," "Side Show" and "Sunset Boulevard." Her solo CD "Lauren Kennedy, Songs of Jason Robert Brown" is available on PS Classics.
The company will also feature such Boston favorites as Leigh Barrett, Mary Callanan, Brian Robinson, Kerry Dowling, Andrew Giordano, Brendan McNab, Maryann Zschau and Lynn Von Thaden.
Tony McLean explained, "What occurred at NSMT was devastating for their patrons, the theater community and the region -- everyone involved with 'Songs for a New World' is honored to play a role in this fundraising effort."

McLean was recently at the helm of Gloucester Stage Company's "A Grand Night for Singing." A theater industry veteran, McLean is currently directing "On the Twentieth Century" starring Alice Ripley and George Dvorsky for Overture Productions. He has also been the theater manager for such companies as the Parker Playhouse and Royal Poinciana Playhouse in Florida, and has managed the Las Vegas company of "Starlight Express." For Disney Theatrical Productions, he was the Associate Producer/General Manager for "Disney's Beauty and the Beast" on Broadway, Los Angeles, Toronto and on tour.
For information and tickets (priced at $50.00 and $35.00), call the NSMT Box Office in Beverly at 978-232-7200 or visit www.nsmt.org.
-- OnStage Boston