Boston audiences will have the opportunity to usher in the holiday season with style when Irving Berlin's beloved classic "White Christmas" comes to The Wang Theatre from November 25 – December 31. Based on the 1954 movie musical of the same name, this spectacular new stage production brings its uplifting story to a new generation in a brand new stage adaptation.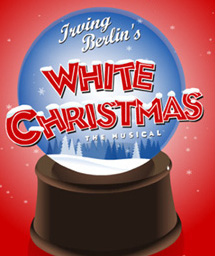 Co-produced by The Wang Center for the Performing Arts and the Ordway Center for the Performing Arts in St. Paul, Minnesota, "Irving Berlin's White Christmas" will play alternate years at The Wang Theatre and the Ordway Center.
The show made its stage debut during the 2004 holiday season in San Francisco, garnering rave reviews and establishing its status as a don't-miss holiday show.
The Oakland Tribune said, "Irving Berlin's White Christmas" makes you feel like "you've stepped into a Technicolor movie musical," with the San Francisco Chronicle adding "The voices are superb, the design is entrancing, and the choreography positively exhilarating. And yes, snow falls in splendid profusion."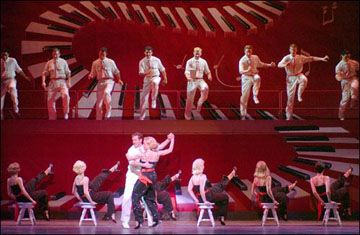 The musical tells the story of two showbiz buddies putting on a show in a picturesque Vermont inn. In the bargain, they, of course, find their perfect mates. With spectacular production numbers showcasing some of Irving Berlin's most beloved songs (including "Counting Your Blessings," "Sisters," "How Deep is the Ocean" and the classic title song, among others), "Irving Berlin's White Christmas" promises to be a holiday event for the entire family.
Boasting a top-notch production team, "Irving Berlin's White Christmas" is directed by Tony Award winner Walter Bobbie ("Chicago"); features music and lyrics by Irving Berlin; book by David Ives and Paul Blake; choreography by Randy Skinner ("42nd Street"); set design by Anna Louizos ("Avenue Q"); costumes by Carrie Robbins ("A Class Act"); lighting design by Ken Billington ("Annie"); sound design by Acme Sound Partners ("The Boy From Oz"); orchestrations by Larry Blank; vocal and additional arrangements by Bruce Pomahac; and music direction by Rob Berman.
"Irving Berlin was always proud of the movie 'White Christmas,' and we are thrilled that it has now become a stage musical," says Ted Chapin, President of the Rodgers & Hammerstein Organization which administers the Irving Berlin copyrights.
"He wrote a song about Christmas that became more than a song – it became the highlight of one film, the title song of another, and a worldwide phenomenon. We have been working with Paramount Pictures for several years to make this stage version a reality, and all of us – including the family – are looking forward to seeing the show that this great creative team is bringing to life on stage."
Director Walter Bobbie explains, "There are three reasons why I wanted to stage this musical. Irving Berlin, Irving Berlin and Irving Berlin!"
Tickets for the Boston engagement are available at The Wang box office, by calling 800-447-7400 and by visiting either telecharge.com or www.wangcenter.org.