Having danced away with the Tony Award as Best Musical of 2005, "Monty Python's Spamalot" is taking the country by storm. And it all starts right here in Boston in March of next year.
Broadway in Boston has announced that the highly anticipated national tour of "Spamalot" will kick off at Boston's Colonial Theatre on March 7, 2006, followed by engagements in Chicago (April 18-June 4), Washington, D. C. (June 7-July 9) and additional cities to be named throughout the United States and Canada. Casting for the tour is yet to be announced.
Since opening at New York's Shubert Theatre this past March, "Spamalot" has been THE show to see -- a real phenomenon. Tickets are impossible to come by and lines form outside the box office daily for those scant tickets that might become available at the last very minute.
As the marquee says, the show is "lovingly ripped off" from the internationally famous comedy team's most popular film -- 1975's "Monty Python And The Holy Grail."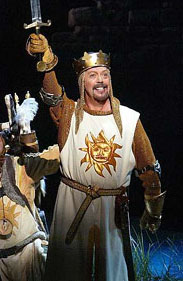 In a nutshell, "Spamalot" tells the legendary tale of King Arthur (Tim Curry, left, from the Broadway company) and the Knights of the Round Table and their quest for the Holy Grail. Along the way, there are a chorus line of dancing knights, a divine diva, flatulent Frenchmen, and the prerequisite killer rabbit. Fear not, the Knights of Ni are also part of the fun, along with a tip of the hat to Vegas and a very familiar Voice of God.
Directed by Mike Nichols (who also took home a "Spamalot" Tony as Best Director), "Spamalot" features a book by Eric Idle (based on the screenplay by Python members Graham Chapman, John Cleese, Terry Gilliam, Eric Idle, Terry Jones and Michael Palin), with music by Eric Idle and John DuPrez. Casey Nicholaw is choreographer.
An "on sale" date for tickets has not been announced yet -- so "Always Look On The Bright Side" and stay tuned.
For a peek at the show's crazy but totally-in-character website, visit www.montypythonsspamalot.com.