"Theater Talk," airing locally on WGBH-Channel 44, is one of OnStage Boston's favorite ways of keeping up to the minute on what's happening on Broadway. Co-hosts Michael Riedel (of the New York Post) and Susan Haskins regularly present terriffic conversations with an exceptional spectrum of writers, actors, directors and producers in an informal setting.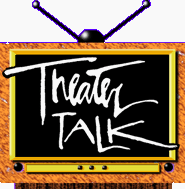 Unlike the quick interviews offered by so many other talks shows, "Theater Talk" is a solid half-hour, often with just one guest.
Recent shows have featured Cherry Jones and Bryan O'Bryne discussing the Pulitzer Prize-winning "Doubt," the cast of "The Glass Menagerie" with Jessica Lange and Christian Slater, Harvey Firestein on "Fiddler on the Roof" and most recently, a remembrance of writer Peter Stone ("Titanic," "1776").
On Sunday, July 17, at 6 p.m. "Theater Talk" will present a special broadcast -- highlights from "Out, Loud & Funny," a provocative conversation about lesbian & gay humor.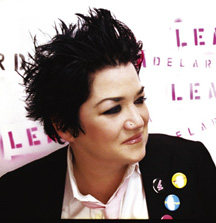 Guests will include comedian-writer-performers Lea DeLaria (left) , Mr. Murray Hill, Reno, Flotilla DeBarge, Kate Clinton, Frank DeCaro, Judy Gold and Bob Smith -- together -- discussing the distinctive voice that gay people have in the world of comedy. Actress Julie Halston, now appearing on Broadway in "Hairspray," will moderate the lively panel.
"Out, Loud & Funny" was organized and presented by Richard Nahem and The Art of Creation last month before a live audience at The Lesbian, Gay, Bisexual & Transgender Community Center.
Columnist Michael Musto (and a frequent guest on "Theater Talk") reported in The Village Voice, "The men were men and some of the women were too, over at Out, Loud & Funny, a gay comedy panel at the LGBT Community Center (filmed for "Theater Talk"), which was razor sharp, funny, and informative, but I liked it anyway."
"Out, Loud & Funny" is being produced and directed for "Theater Talk" by Susan Haskins. For more information, visit www.theatertalk.org.