A Review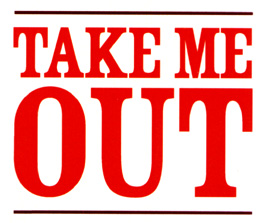 Playing The Game
By R. J. Donovan
With the local theatre season winding to a close for many companies, and the local baseball season revving up, "Take Me Out" at the Boston Center for the Arts, provides a dramatic bridge between the two. The production is presented by SpeakEasy Stage Company and Boston Theatre Works in association with Broadway in Boston. SpeakEasy's Producing Artistic Director Paul Daigneault directs.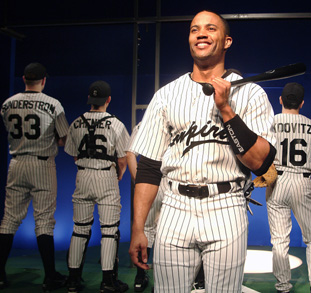 Written by Richard Greenberg, "Take Me Out" begins when Darren Lemming (Ricardo Walker, left), a charismatic, bi-racial, big time, all-star outfielder for the Empires, comes out of the closet at a press conference. No warning, no set up -- he just does it. He's rich, he's handsome and he can do whatever he wants.
Crisply written, the story that unfolds encompasses far more than a revelation of sexuality. It's about friendship, prejudice, perception and identity, all played out against the backdrop of a baseball season.
In the midst of this is Mason Marzac (played by Neil A. Casey), the whiz kid financial advisor assigned to manage Lemming's fortune. Coincidentally gay, the meek outsider has no interest in baseball. However, he soon develops a love for the game, past and present, just by being around it.
And as Mason's love for baseball increases, Darren's dwindles. He wants out (which is only one of the word plays the show's title suggests).
The New England premiere of "Take Me Out" aptly focuses on a trio of characters -- Lemming, Marzac and Kippy Sunderstrom, fellow Empire team member and longtime friend to Lemming. Kippy narrates a good portion of the evening, balanced by Marzac.
After Lemming's announcement, the team has its moments of uncomfortable hesitation. However, all hell breaks lose when Shane Mungitt, a talented but albeit redneck pitcher, joins the Empires straight from a trailer park and makes a series of racist and sexual remarks about his teammates in an interview.
Mungitt comes from a bizarre background devoid of family, touched with murder and filled with orphanages and an appalling lack of education, formal or otherwise. Genuinely clueless, his thick-skulled but almost childlike innocence leaves him baffled that anyone could find fault with his words.
Adding to the emotional headaches, Lemming's best friend and rival ballplayer, Davey Battle (Ricardo Engerman), condemns his homosexuality in the name of Christian correctness.
The company is filled with good performances, particularly by Nathaniel McIntyre as Kippy and Christopher Brophy as Mungitt. McIntyre is everything you'd want in a friend. He has a warm, supportive, easy way about him as he connects directly with the audience and helps move the story along. Brophy is also very good as the nimwit who hasn't got a thought in his head about anything other than pitching. He and McIntyre and Walker are riveting in an very emotional scene late in the second act.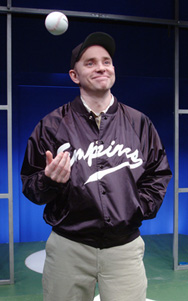 Neil A Casey (left) is Marzac, and while he's wildly funny (as always), he plays the role with a frenetic force. Casey is a wonderfully talented guy -- it would be interesting to see how the arc of the character might be affected if he took his foot off the gas pedal now and then.
As Lemming, Ricardo Walker hits all the right notes as the dashing hunk, but he often sounds like he's reading his lines. Lemming needs to exude an arrogant confidence and Walker doesn't seem to be fully wearing that cocky part of the character. He may settle into it more as the run progresses.
Eric Levinson's set overflows with blue sky and green grass, making the most of the intimate space at the Calderwood's Studio Theatre.
Overall, "Take Me Out" is a strong production that brings the 2004-2005 seasons at SpeakEasy and Boston Theatre Works to a satisfying conclusion.
"Take Me Out" is at Calderwood Pavilion at the Boston Center for the Arts, 527 Tremont Street in Boston, through June 11. For information, call 617-933-8600.
"Take Me Out" includes adult situations, strong language and nudity.
Production Photos: Craig Bailey / Perspective Photo
-- OnStage Boston
05/05/05