A Review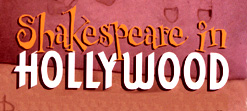 All The World's A Broadly Drawn Stage
By R. J. Donovan
Ken Ludwig's at it again, giving us a look at backstage chaos. He's already covered theater ("Moon Over Buffalo") and opera ("Lend Me A Tenor"), so it was only a matter of time before he aimed his typewriter at Tinsel Town.
In "Shakespeare In Hollywood," having its New England premiere at Lyric Stage Company (under the guidance of director Spiro Veloudos), he's loosely set the plot within the actual filming of "A Midsummer Night's Dream" at Warner Brothers studios in 1934.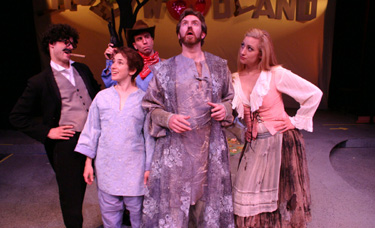 Austrian director and self-described genius Max Reinhardt is all set to begin shooting when two of his stars, playing Oberon and Puck, conk out on him.
Magically, the REAL Oberon and Puck materialize, straight from Athens. And lo and behold, they get cast in the film, playing themselves. Imagine.
Oberon's presence allows Ludwig plenty of room for Shakespearean quotes and references (over which several audience members boisterously killed themselves, no doubt in an effort to let the rest of us know that they were very, very smart and got it).
The film's cast is sprinkled with real folks like James Cagney. Dick Powell and Joe E. Brown, however, none of the actors playing those roles attempt to imitate the stars they represent. Gossip columnist Louella Parsons makes a red carpet appearance and Will Hayes, the censorship king of his era, adds his two cents where it doesn't belong.
A lot of the humor sets serious artist Reinhardt against the bubble-headed fluff of Hollywood. In that light, the critically untalented girlfriend of Jack Warner winds up in a leading role in his film. And the Hayes Production Code office tries to shut the entire film down over its questionable sexual content (in Shakespeare!!).
False-start romances add to the mix, deepening when Oberon and Puck fool around with a magical flower that makes all the wrong people fall in love (including Hays, who becomes smitten with his own reflection).
The fact-and-fiction "Shakespeare In Hollywood" was originally commissioned for the Royal Shakespeare Company. But it was never produced. Maybe they just didn't see it as anything other than that what it is -- a fair comedy, that doesn't so much float as push itself towards the finish line. In general, Ludwig's broadly drawn and loudly delivered comedies often appear funnier in description than execution.
Amidst all of this, Christopher Chew (center in photo above) is solid as Oberon, never quite sure of his new surroundings, yet ultimately adapting enough to don Hollywood shades.
Ken Baltin creates a nice portrait of the long suffering Reinhardt. When quizzed on the red carpet by a bedazzled Parsons (Margaret Ann Brady) on why he's traveled to Hollywood from his homeland, Reinhardt says straight forward "In my country there's a man named Hitler. He's killing people." She blathers on about that just being swell before turning her sequined personality to the next famous face.
Elizabeth Hayes is sweet as Olivia, the small town gal in search of the Hollywood dream, Robert Saoud hits the nail on the head as exasperated movie mogul Jack Warner and, as the villainous Will Hays, Peter A. Carey makes the material funnier than it is.
In the end, Ludwig resolves things neatly, but his one-joke story has petered out long before that. It's one thing to describe your work as "zany," and another to actually deliver on the promise.
"Shakespeare in Hollywood" is at Lyric Stage, 140 Clarendon Street, through June 4. For information, call 617-437-7172.
-- OnStage Boston
05/11/05