A Review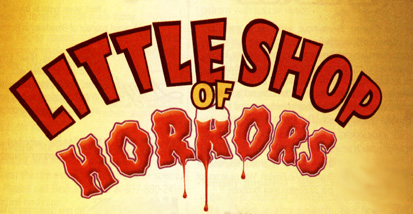 Monstrous Musical in Full Bloom
By R. J. Donovan
Grab your pruning shears, 'cuz the plants are about to take over the universe.
That's the lighthearted message of "Little Shop of Horrors" the campy musical romp that's rooted itself at the Colonial Theatre for a two week run through May 15.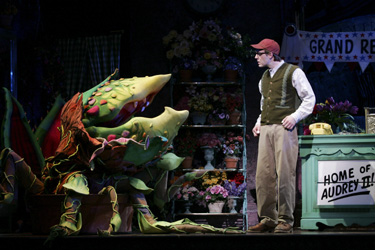 Set in a Skid Row flower shop, "Little Shop" is about a schnook of a shop boy who nurtures a bizarre plant that feeds on human blood. It's all tongue in cheek, of course, and when you tell the wicked story through a bouncy bop-shoo-bop musical score, it's silly, tuneful fun.
The story first came to life as a cheesy, black and white, sci-fi Roger Corman movie in the 60s. (Observant fans will catch an quick tip-of-the hat to Corman early in the show.) Then, in the early 80's, "Little Shop" became a musical -- book and lyrics by Howard Ashman, music by Alan Menken (in their pre-Academy Award days). Playing way off-Broadway, "Little Shop" developed a cult following that made it "the show you had to see." A long run was the result.
A hit film version followed with Rick Moranis, Ellen Greene and Steve Martin. Then in 2003, producers dragged out the Miracle Gro to make the show a big deal on Broadway. They subsequently stunned theatre folk when they cancelled the New York run during the out of town tryout in Florida. However everyone re-grouped, tried it again, and "Little Shop" finally came to bask in the grow lights of Broadway.
The setting is Mushnick's Flower Shop, smack dab in the middle of the grim and grit of Skid Row -- hardly the place to sell wrist corsages to the cotillion crowd. The shop is struggling, jeopardizing the jobs of shop boy Seymour and his associate, bleached-blonde-with-a-heart-of-gold, Audrey. Audrey, who doesn't own anything that's less than boa constrictor-tight, is in an abusive relationship with a sadistic dentist. And Seymour secretly has feelings for the forlorn gal.
Things change when Seymour's amazing flora discovery, nicknamed Audrey II, begins to draw customers to the shop. And when the masses come to ogle Audrey II, they usually wind up buying a few posies before they depart. To cash in on the moneymaking novelty, Mushnick and company hit the publicity circuit, and the piddly little shop becomes a beehive of activity.
The only flytrap in the ointment is that Audrey requires a bloody diet of human beings to survive. Seymour discovers this when he accidentally pricks his finger on a thorn and innocently provides Audrey with her first few corpuscles. Audrey grows in size. And in appetite. Such that Seymour is unable to keep up with the personal blood donations and has to search for larger blue platelet specials. Not unlike Sweeney Todd, he turns to those around him to fill out Audrey's menu.
Under the direction of Jerry Zaks, the hardworking cast is first rate, starting with Yasmeen Sulieman, Amina S. Robinson and Latonya Holmes who serve as a sort of Motown Greek chorus for the story and kick things off with the title tune.
Jonathan Rayson (above, with Audrey II) is appropriately nerdy as the shy but lovable guy who pines for the blonde. He gets in over his head with his murderous activities, but he's doing it for love. He's especially good in "Suddenly Seymour."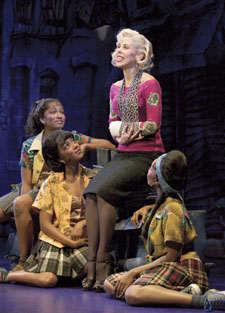 And as Audrey (the blonde, not the plant) Tari Kelly (left) is delightful as the squeaky, lisping gal who longs for a normal life, TV dinners and a white picket fence away from the riffraff of Skid Row. She holds the audience in her sweet little spell (and displays a strong singing voice) while expressing those Donna Reed-like dreams in "Somewhere That's Green."
As the nudgie Mushnick, Ray DeMattis has a winning duet ("Mushnick and Son") with Seymour after he offers to adopt him in order to keep Seymour from taking Audrey (the plant, not the blonde) to a more upscale shop for display.
Playing Orin, the sadistic tooth-yanker, James Moye has fun as the swivel-hipped, black-jacketed D.D.S. who lives to inflict pain. Moye also does double (triple??) duty in a multitude of other quick-change roles.
Heard but not seen (until the curtain call) is Michael James Leslie as the seductively demanding voice of Audrey II.
And special kudos to Michael Latini, Paul McGinnis and Marc Petrosino who do a wonderful job manipulating Audrey II from pot-sized petunia to a Jolly Green Giant-like wonder. (Audrey II was designed by The Jim Henson Workshop and Martin P. Robinson.)
Bottom line: This quirky, cartoony, horticulturist's nightmare can only grow on you.
"Little Shop of Horrors" is at The Colonial Theatre, 106 Boylston Street, through May 15. For information, call 617-931-2787.
Production Photo: Bruce Bennett
-- OnStage Boston
05/06/05