A Review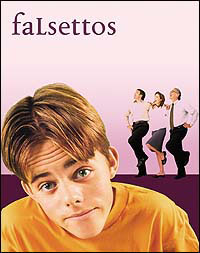 Marching Along
By R. J. Donovan
Huntington Theatre is ending its main stage season with a sharp production of "Falsettos." The winner of two 1992 Tony Awards for book and music, "Falsettos" is actually the combination of two separate one-act off-Broadway musicals -- "March of the Falsettos," which first appeared in 1981, and "Falsettoland," which followed in 1990.
The bittersweet comedy follows Marvin as he finds his way, and his voice. He's left his wife, Trina, and son, Jason, to live with Whizzer, his male lover. But he still wants the affections of his conventional family as well as his new life with Whizzer. His wife, unable to cope, seeks guidance from Mendel, Marvin's therapist, and falls in love with him. Meanwhile, Jason struggles not only with his father being gay and the sensitive changes at home but with his own journey from boy to man.
Act Two jumps ahead two years. Marvin and Whizzer, who previously hit a rough patch, come back together on more solid ground. Thirteen year old Jason is preparing for his bar mitzvah, which is seemingly costing his parents millions of dollars. Marvin and Whizzer have become friends with "the two lesbians from next door," yet another extension of their family. Life is moving along nicely until Whizzer becomes ill with an undisclosed disease that's quickly turning into a plague.
With music and lyrics by (Natick native) William Finn and book by Finn and James Lapine, "Falsettos" is both sophisticated and down to earth. The intricate and entirely sung score offers everything from fast-and-funny patter songs to poignant ballads.
Among the most humorous are "Four Jews In A Room Bitching," "Marvin Visits The Psychiatrist: A Three Part Mini-Opera," and "The Baseball Game," which finds the entire company, Jason's extended family, gathering on the little league field to watch "Jewish boys who cannot play baseball, play baseball."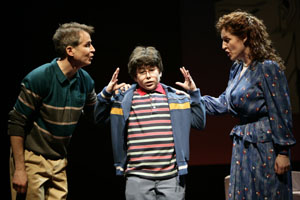 This is an ensemble show with a fine company. Geoffrey Nauffts (far left) is Marvin. And if he doesn't make a particularly strong entrance, he soon settles into the role and brings the first act to a heart-aching finish with "Father To Son."
As Trina (right), Linda Mugleston stops the show with a hilarious "I'm Breaking Down," accessing her confusing new "woman-on-the-verge" life. Newton's own Jacob Brandt (center above) earns big applause for his work as Jason, who's often wiser than all the grown-ups around him. This is demanding material for an adult not to mention a seventh grader, and Jacob is up to it. He sings well, is appropriately awkward without being too self-conscious and has a nice way with the show's humor. As the hunky Whizzer, Romain Fruge (below, far left) has two extremely strong solo spots with "The Games I Play" and "You Gotta Die Sometime." And Steve Routman makes for a very believable psychiatrist who often hasn't got a clue.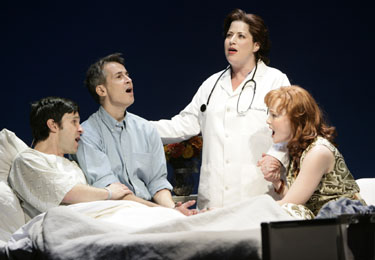 The Lesbians Next Door don't make their appearance until Act Two when we meet Anne L. Nathan (second from right) as Dr. Charlotte, who tends to Whizzer in the hospital, and (right) Kate Baldwin as Cordelia, a caterer who, of course, lends a hand with Jason's bar mitzvah. As Whizzer lies in his hospital bed, the foursome of Whizzer, Marvin, Charlotte and Cordelia share a ballad called "Unlikely Lovers" (above) that's guaranteed to bring a lump to your throat.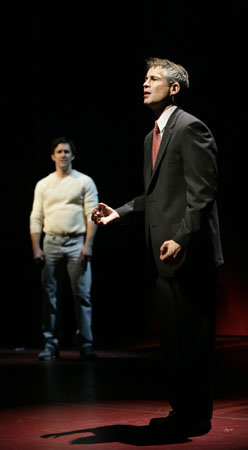 Mirroring the first act, the final number in Act Two closes in again on Marvin, who has learned to really love. Finn brings the story to an emotional finish with the stirring "What Would I Do," for Marvin and the memory of Whizzer. As the stage goes to black, Whizzer is surrounded and comforted by family, those who love him -- his own unconventional "teeny-tiny band."
Director Daniel Goldstein has created a very tight production that moves efficiently but elegantly from one moment to the next. With more than three dozen musical numbers, there's little time to waste. But Goldstein keeps the ship on course without it ever appearing rushed.
Special mention also goes to scenic designer Daniel Korins for the show's outstanding look. Blood red frames and sliding panels are offset by stark all-white set pieces and fragmented black and white photographic images. And in the second act, a traveling curtain is used to great effect.
As a callback to the dark beginnings of AIDS, the material might at first appear to have a somewhat dated hue. But the disease is clearly still among us, and as families shift and change and adapt to any number of relationships and situations, there's still plenty of connection to be made in 2005.
Now, as then, it's about singing your own song.
"Falsettos" is at The Huntington Theatre, 264 Huntington Avenue in Boston, through June 26. For information, call 617-266-0800 or log onto www.huntingtontheatre.org.
Production Photos: T. Charles Erickson
-- OnStage Boston
05/27/05