A Review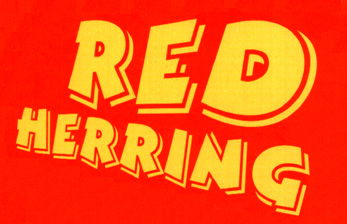 Commies Akimbo
By R. J. Donovan
Sometimes, there's a great play being presented by a cast that isn't up to the challenge of the piece. Other times the reverse is true. Unfortunately, that's the case with Michael Hollinger's "Red Herring" in its Boston premiere at Lyric Stage. You've got a really talented cast in a comedy that doesn't serve them well at all.
Set in the 50s, "Red Herring" is billed as a romantic comedy murder mystery with a touch of film noir. Unfortunately, it shoots off in so many directions, it loses focus and doesn't shine in any one of the genres it boasts.
The plot involves a multitude of stories and characters. Senator Joseph McCarthy's daughter is about to get married -- to a Russian spy. Two detectives in Boston are in love with one another while pondering a body floating in the harbor. And a loud mouth landlady is up to no good with a fisherman, who's also Russian spy, and who may or may not be dead.
Most of the scenes are so short you barely have time to latch on to the characters before they're gone. A blackout follows (with some longer than others) and then we're off to something new. Adding to the muddle, the cast plays multiple roles. For the first four or five scenes, it takes more than a moment to step back and figure out who's who.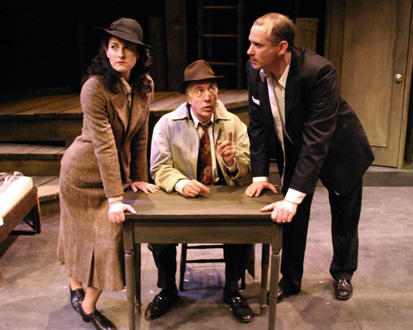 The comedy that's wrestled out of all of this can be credited to the talents of the players.
With a comical Minnesota accent, Allison Clear is thoughtful and funny as Senator McCarthy's puritanical, slightly dense but not so innocent daughter. Barlow Adamson (far right in photo) is Boston detective #1 with Sarah Newhouse (far left) as detective #2. Marc Harpin is the fiancé with unpatriotic espionage on his mind. Leslie Dillen is the corrupt landlady, also doing a quick turn as a very funny bridal consultant. And Richard Snee (center, above) is the fisherman who's the object of the landlady's sultry desire. (In one of the play's better sequences, Snee and Clear meet in a bar and share a conversation about marriage.) Courtney A. O'Connor directs the production.
Mystery fans know that a red herring is traditionally a clue that intentionally distracts only to lead nowhere. Well, there ya go.
"Red Herring " is at at Lyric Stage, 140 Clarendon Street in Boston through March 19. For information, call 617-437-7172.
-- OnStage Boston
2/25/05