A Review

As Mad As Bedlam, And Equally Delightful
By R. J. Donovan
Huntington Theatre Company is kicking off the new year with a production of "The Rivals" that charms from its first moment -- and only gets better as the evening unfolds.
As the program notes explain (and I'm quoting here), Richard Brinsley Sheridan's "The Rivals" is set in Bath in 1775 during the transition between the Restoration and Georgian eras. The play charts the courtship of Miss Lydia Languish by Captain Jack Absolute as he dons a secret identity, evades the detection of Lydia's aunt and his own father, and outwits the rivals for Lydia's attentions.
What results is a frothy, funny story presented by a delightful cast under the meticulous direction of Nicholas Martin.
Satirizing the trappings of marriage and wealth, Sheridan fashioned the story line on his own life and marriage. In "The Rivals," the affluent Captain Absolute pretends to be a nobody to woo the babbling Miss Lydia, for whom wealth carries no weight. Her aunt and his father have other plans for the couple, but through a chipper case of mistaken identity, the couple winds up pushed together whether they like it or not.
Along the way there are quarrels, duels and social pretension galore.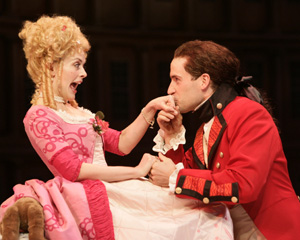 At the heart of it all are Scott Ferrara (left) as the dashing Captain Jack and Cheryl Lynn Bowers (with Ferrara) as heiress Lydia Languish. Both are excellent as Jack strives to keep his identities straight while Miss Lydia satisfies a voracious appetite for reading material.
However, the crowd pleasers are Will LeBow as Jack's father, Sir Anthony Absolute, and the legendary Mary Louise Wilson (below) as the daffy and overly confident Mrs. Malaprop.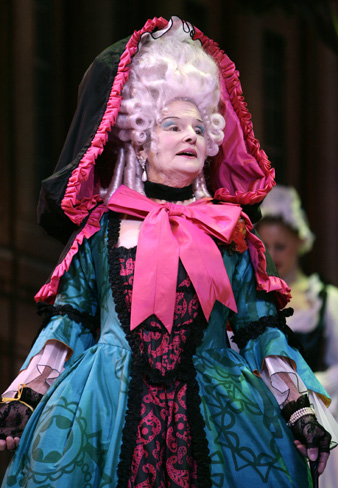 Endlessly expressive without ever overdoing it, LeBow shows why he's one of Boston's most gifted and entertaining actors. One of his funniest scenes comes as he and Ferrara envision Jack's intended as having everything from humps on both shoulders to a rolling eye and skin like a mummy.
Mary Louise Wilson is deliciously dotty as The Queen of The Dictionary. Her inimitable sputtering is visually augmented by Michael Krass' showy costuming, including a mile-high pile of swollen marshmallow curls topped by a dainty dust ruffle.
True to her name, Mrs. Malaprop's words are "misapplied without being mispronounced." The precursor to our modern day Mrs. Slocum, the muddled Mrs. Malaprop at once condemns men as "bavarians" only to cheer on another member of the stronger sex as being "the very pineapple of politeness."
As stated above, the full company is first rate.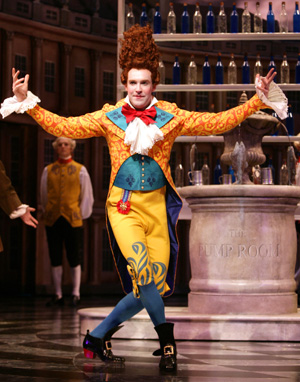 Brian Hutchinson (left) is Bob Acres, country gentleman clumsily trying to fit in with the city crowd, soon involved in a farcical duel with Rod McLachlan as Sir Lucius O'Trigger, who's mistakenly been corresponding with Mrs. Malaprop, who's been using a pen name on her rambling epistles. Eric Anderson is Acre's constantly bowing man servant.
Gareth Saxe is the charming but capricious Faulkland, friend to Jack Absolute and wooer of Mia Barron's Julia Melville, cousin to Miss Lydia.
And in a case where the help has a better handle on what's happening than their employers, Dennis Staroselsky is servant to Captain Jack and Helen McElwain is servant to Miss Lydia.
Richard Krass' costumes are colorful celebrations while Alexander Dodge's exacting sets spark applause with each new scene. Dodge has recreated Bath's majestic semicircular Royal Crescent, out of which roll individual and elegantly detailed rooms.
"The Rivals" is a fresh and funny antidote to the bleak midwinter blahs. In the end, hurdles are overcome, identities are unraveled and true love reigns supreme.
Who could ask for anything more?
"The Rivals " is at The Huntington Theatre, 264 Huntington Avenue in Boston, through February 6. For information, call 617-266-0800 or log onto www.huntingtontheatre.org.
Production Photos: T. Charles Erickson
-- OnStage Boston
1/15/05