A Review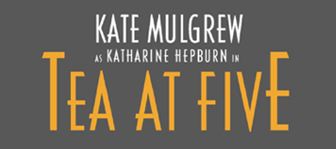 A Star Turn
By R. J. Donovan
In "Tea At Five," Kate Mulgrew has the task of delivering a star performance in the middle of a production that physically falls short of her contribution.
Directed by John Tillinger, "Tea At Five" is two separate looks at legendary film actress Katharine Hepburn at two vastly different periods in her life.
Set in the living room of Fenwick, the Hepburn family home in Old Saybrook, Connecticut, the one-woman show is both funny and sad at it captures and shares stories about Hepburn's professional ups and downs as well as her personal triumphs and tragedies.
The title refers to the custom, instituted by Hepburn's father, that the family stop whatever they're doing every day at five and be civilized enough to have tea.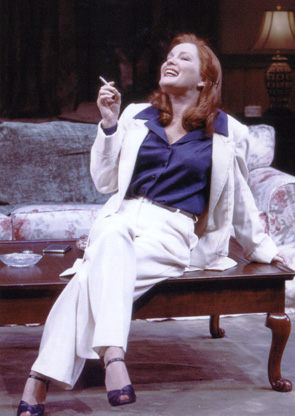 Act One takes place in 1938. The slim, sultry and opinionated Kate is all purrs as she drips her fluid form over chairs, into the sofa, off the edge of tables and finally onto the floor.
Cooing and snapping, the square-jawed, hearty Kate is overflowing with kinetic energy, whether lamenting the breakdown of her marriage, puffing on cigarettes, tossing off references to Louella Parsons, Dorothy Parker, Leland Hayward and John Barrymore or insisting "Gone With The Wind" was written for her and only her to play ("I AM Scarlet O'Hara!").
Mulgrew is slinky and sexy as she curls herself into Hepburn's image. Rather than impersonating Ms. H., she truly seems to get into her skin. While she is always on the money, there are brief flashes when the voice and the look and the mannerisms are uncanny.
Act Two jumps ahead to 1983. In a trademark turtleneck with her gray hair twisted high on her head and a sweater tied loosely around her shoulders, Hepburn is recovering from a car accident. Hobbling around Fenwick with a cane and a foot brace, she laments retiring -- or trying to retire, anyway. The offers keep coming, attention is still being paid, and she claims she just wants to be left alone.
Here she conveys her disdain for her Manhattan next door neighbor Stephen Sondheim, her memories of filming "The Corn Is Green," her appearance on Broadway in the musical "Coco," and her long relationship with Spencer Tracy. There is also a heartbreaking segment detailed the suicide, accidental or otherwise, of her brother Tom.
Speaking directly to the audience, the no-nonsense, self-deprecating Hepburn punctuates her stories with fiery outbursts like "Can you imagine!" along with personal mantras such as "Attention to detail is the secret of success in life" and "Work has always been my salvation."
So Mulgrew's creation is the good news.
The less-than-good news is that both the sound and set design work against her, big-time. It was often difficult to fully understand her, but when she stood down stage center, it was next to impossible.
Additionally, the set includes a long window that stretches half way across the rear of the stage. For three quarters of the evening, that window reflected the stage lights directly into the eyes of the audience in the orchestra section.
Written by Matthew Lombardo (who is reportedly working on a similar show about Tallulah Bankhead for Elizabeth Ashley), the script is dishy and bitchy and filled with enough inside dirt to placate fans of the Hollywood machine.
Even if they don't learn very much that's new, diehard Hepburn devotees will spend a grand evening basking in the recreated glow of a legend.
"Tea At Five" is at The Shubert Theatre, 265 Tremont Street in Boston, through December 19. For information, call 800-447-7400.
-- OnStage Boston
12/10/04