A Review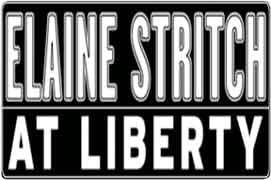 Front and Center, She's Still Here
By R. J. Donovan
I'd like to propose a toast . . .
Legendary Elaine Stritch is center stage at The Wilbur, at liberty to talk about anything and everything. And she does. The resulting one-woman show is a must-see for anyone who loves the "thea-tah" and backstage trivia, presented by one gutsy, larger-than-life lady who's been there and back -- and lived to tell about it. Literally.
The red velvet curtains part on an empty stage. There's a plain brick wall upstage, and the one and only Ms. Stritch enters lugging her own stool. Dressed in black tights and a free flowing white silk shirt, she looks great.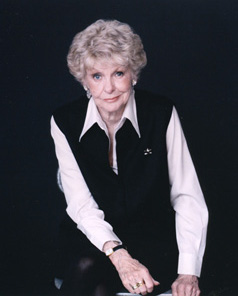 To the strains of "There's No Business Like Show Business," we're off and running. We start at her childhood home on Burkecrest Drive -- innocent and eager -- and wind up tonight, onstage -- older and wiser.
The 2 and 1/2 hour journey is a vibrant treasure trove of songs and stories, celebrity sightings, behind the scenes dish and painfully honest life lessons. Start to finish, she's a force to be reckoned with.
Topics range from Catholic boarding schools to Marlon Brando, poison jelly, Ibsen, Chekhov, Sondheim, diabetes, opening nights, closing nights, love, loneliness, stage fright, blowing a TV cash cow, Ethel, Judy, Rock, "Company," "Sail Away," Call Me Madam, "Pal Joey," her first drink, her last drink and everything in between.
It would spoil the experience to give too much away. And besides, you have to see the show to get the full effect because the charismatic lady can do more with a raised eyebrow and a withering glance than anybody who ever set foot on a stage.
That said, two of the funniest stories involve the brief period when she was understudying Ethel Merman at the Imperial Theatre in New York while simultaneously playing a role in a tryout at the Shubert in New Haven. She had to be at both theatres for all performances and the tale of how she accomplished it is a riot. Another is the ripping reminiscence of a Kenley Players production of "The Woman" she starred in with Gloria Swanson ( . . . turns out Norma Desmond was more than just a film role.)
It's also a treat to hear about the out of town Boston tryout of "Company," which took place right across the street at The Shubert some 30 years ago.
Aside from being a masterful storyteller, she also delivers a bounty of musical material, running from her best known number, "The Ladies Who Lunch" to the comical "Bongo Bongo Bongo." And when she sings "I'm Still Here," it's like Sondheim wrote it for nobody else.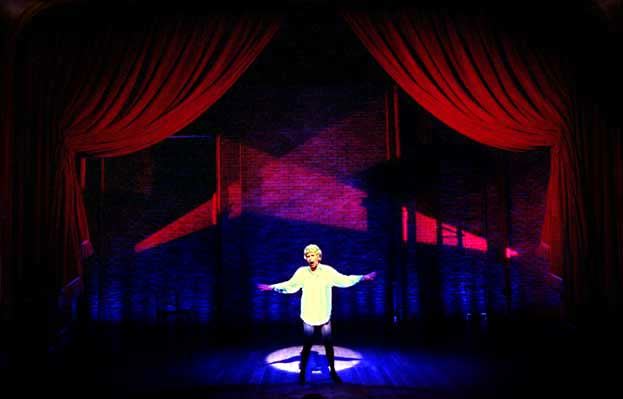 She ends Act One with an incredibly poignant medley of "If Love Were All" and "But Not For Me," later concluding her journey and the evening with the heartfelt "Something Good" from "The Sound of Music."
About mid-way through the second act, it dawned on me that this was something akin to a musical comedy therapy session. While she speaks directly to the audience, she never actually connects with any one individual (unlike someone like Dame Edna who purposely pops around addressing folks in the front row, the boxes, the balcony etc.). Instead, perched on her stool, she spends a good part of the evening playing straight ahead, directly to the back row of the orchestra. In a sense, the audience collectively becomes an eavesdropping sounding board for her cathartic passage to peace.
As the program credits notes, the insightful production has been constructed by John Lahr and "reconstructed" by Elaine Stritch. Award-winning George E. Wolfe directs. And kudos to pianist-musical director Rob Bowman who does a wonderful job leading the 8 member orchestra in the pit.
Emotional moments abound, but there's a lovely segment near the end of the night when she tosses out quick mental snapshots of the many people to whom she's been grateful -- the helping hands who've provided subtle inspiration. From playwright Edward Albee who calls every Christmas to make sure she's not alone, to her friends, her sisters, her parents and a thoughtful waiter at the Regency Hotel in New York.
Whether sad or joyful, there's not a sentimental, self-congratulatory flash to be seen. This is not an ego massaging memoir of "and then I starred in . . . " To the contrary, it's a candid look at an actor's life. And the dedication and determination that's been a part of it. Along with the brutal regret that while a reliance on alcohol got her through it, it also made her miss some of the best parts.
A skillful comedienne one minute, genuinely vulnerable the next and eloquently honest in the end, Elaine Stritch is the real thing.
Everybody rise.
"Elaine Stritch At Liberty" is at at The Wilbur Theatre, 246 Tremont Street in Boston, through October 31. For information, call 617-931-2787.
-- OnStage Boston
10/22/04