A Review

The Adventure of Life
By R. J. Donovan
After a change of directors, a switch of cast members and a minor delay of two weeks, The Huntington Theatre Company has opened its fall season with August Wilson's "Gem of the Ocean." The wait has been well worth it.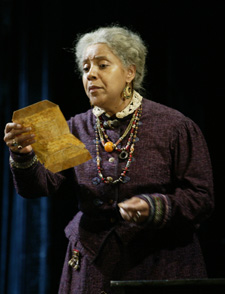 The most recent in Wilson's ten decade cycle exploring the African-American experience in the 20th century, "Gem of the Ocean" is set in 1904 Pittsburgh -- specifically in the parlor of Aunt Ester (Phylicia Rashad at left), a character woven into the fabric of other works but now a central figure. Her home at 1839 Wylie Avenue in Pittsburgh's Hill District is safe ground. A sanctuary. A shelter. Safe harbor.
As the strains of "Glory" open the evening, slavery has been abolished, but freedom is still a challenge. People are still being persecuted, violence is still very present and hatred remains its own imprisonment.
The Huntington's Literary Manager, Ilana M. Browenstein, writes in the Playbill that the Hill District of Pittsburgh (August Wilson's actual home) was "the locus of the black community, which traced its roots back to the late 1700s when 150 slaves were brought to Pittsburgh from Virginia and freed. By the early 1900s, the Hill was a city within a city, offering its residents an arena for both social and economic opportunity. Claude McKay, a leading poet of the Harlem Renaissance, labeled the intersection of Wylie and Fullerton, two of the Hill's main streets, as the 'Crossroads of the World'."
And at the heart of those crossroads is Aunt Ester, the embodiment of wisdom and African-American tradition -- a mystical, welcoming Mother Earth whose guidance cuts to the very essence of life via the simplest of images.
At almost 300 years of age, Ester is the bridge to spiritual redemption -- in this case, redemption for drifter Citizen Barlow who arrives at 1839 Wylie Avenue with a burden so deep, he won't leave her doorstep until she agrees to cleanse his soul.
As Aunt Ester, Phylicia Rashad is a wonder. Transformed into her character, Rashad is almost unrecognizable when she makes her first entrance. There's a hint of the voice, but the stooped shoulders, the labored movement and the air of someone who's been through her share of storms and can't be troubled over that which is insignificant, are of another time and place. This is wisdom, heart and spirit come to life. Ester is the aura to whom others flock.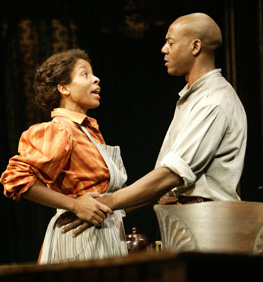 We eventually glean that Ester is not really 285 years old. Rather, she is the symbolic keeper of the memories. And her torch will eventually be passed to another. In "Gem of the Ocean," one possible successor is Black Mary (LisaGay Hamilton, left), a strong and feisty no-nonsense young woman who does things her own way. Whether putting Citizen Barlow (John Earl Jelks, with Hamilton) in his place, or hotly debating the virtues of cornbread vs. biscuits, Black Mary would be a worthy keeper of the flame.
Mary's brother, the bulldozing strong-arm of the town, is Caesar, presented in an exacting performance by Ruben Santiago-Hudson. Initially a mocking blowhard who "keeps a list" of those in the wrong, Santiago-Hudson eventually exposes the struggle that has made Caesar the man he is.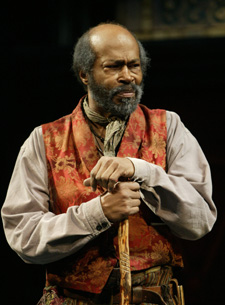 The raspy-voiced Anthony Chisholm is Solly Two Kings, whose sister remains trapped in the South despite her emancipation. His mission is to free her, but sadly, they both wind up doomed. Rounding out the company of award winning stage, film and television veterans is Raynor Scheine as local peddler Rutherford Selig, and Eugene Lee as Eli, devoted friend and protector of Aunt Ester.
Directed by Kenny Leon, "Gem of the Ocean" presents a incredible sense of community. At three hours, it's a long journey, but the tapestry displays some rich moments including: the sweet, flirtatious exchange between Solly and Ester; Citizen Barlow revealing his secret; Black Mary challenging Solly's chosen profession of selling dog excrement; and Ester's gripping memory of her own journey and loss, among others.
Following its engagement at the Huntington, "Gem of the Ocean" will move on to New York. Leading lady Phylicia Rashad received a Tony Award last season for her work in "Raisin in the Sun." This "Gem" could make it two in a row.
"Gen of the Ocean" is at The Huntington Theatre, 264 Huntington Avenue in Boston, through October 30. For information, call 617-266-0800 or log onto www.huntingtontheatre.org.
Production Photos: T. Charles Erickson
-- OnStage Boston
10/02/04