A Review
New Home, New Season
By R. J. Donovan
The doors of the Nancy and Edward Roberts Studio Theatre open, and in comes "Company."
SpeakEasy Stage is kicking off its fall season and inaugurating its new home, with a 35th anniversary look at Stephen Sondheim and George Furth's sociological commentary on marriage.
First a word on the new space. The Roberts Studio is part of the new $8.2 million Stanford Calderwood Pavilion at the Boston Center for the Arts. The 200 seat Roberts Studio is a flexible black box space while its handsome sister theater, the 356 seat Virginia Wimberly Theatre, is a proscenium house.
The overall facility is bright and spacious with plenty of room for milling in the lobby. The Roberts Studio, in particular, is very hip, very New York, very Playwrights' Horizon.
"Company" actually began in Boston, playing its out of town tryout at the Shubert Theatre before heading to New York to win multiple Tonys for book, music, lyrics, direction and Best Musical.
What was touted as a brilliant but highly cynical look at relationships in the 70s isn't quite so raw today. But the show is still a vibrant exposition on five couples and the one single friend they all think should be married.
One of the first big musicals that was not narrative based, "Company" saw two major revivals on its 25th anniversary, one in New York and one in London. Each production introduced minor changes and revisions. The amalgamation of those two revivals now ranks as the official version of the show, and that's what SpeakEasy is using for its production.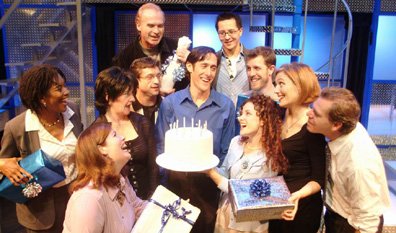 At the center of the story is Bobby (Michael Mendiola, center). He's single, turning 35 and the group has gathered for his surprise party, which bookends each act. There has been some discussion in the past about whether there is a passage of time in the show or if the entire thing takes place in Bobby's mind as he's about to enter the party. The latter is my take on it.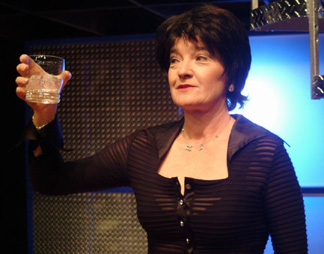 Glimpses into his friendships reveal a range of relationships. There's Sarah and Harry (Julie Jirousek and Jerry Bisantz) -- he secretly drinks and she secretly eats. Jenny and David (Kerry A. Dowling and Will McGarrahan) -- happily married with kids. The older Joanne and Larry (Nancy E. Carroll, left, and Sean McGuirk) -- he's kind and calm while she's rich and hard-as-nails. The younger Paul and Amy (David Krinitt and Elaine Theodore), on their way down the aisle. And Susan and Peter (Merle Perkins and Ted Hewitt), the perfect high-rise pair who get along even better after their divorce.
No one relationship is perfect, but all of them seem to work based on the attributes of the partners involved.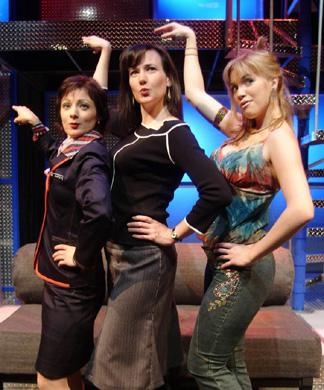 Filling out the story are three of Bobby's fleeting girlfriends (left), April (Stephanie Carlson), Kathy (Aimee Doherty) and Marta (Sara Chase), who sing of their frustration with Bobby in "You Could Drive A Person Crazy."
For Sondheim fans, the show offers a trunk load of music, from the bouncing title song to "Side By Side By Side," the deceptively chipper production number that ultimately slaps Bobby in the face with the realization of his own loneliness.
Director Paul Daigneault has assembled some of Boston's best for "Company." And while they're all sharp, several individual moments beg mention.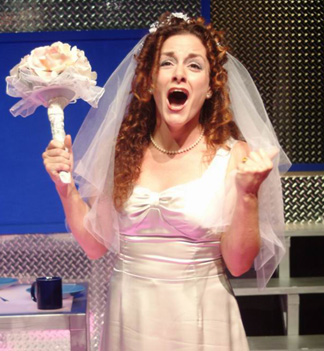 Dowling and McGarrahan are particularly effective revealing the depth of their relationship in a funny pot smoking session. Sara Chase makes the spotlight her own in "Another Hundred People," detailing the saga of single girls in Manhattan. Elaine Theodore (left) gleefully steals the show as the frantic bride with cold feet. Stephanie Carlson is a delight as the empty headed flight attendant who clearly knows she's dumb but tries to appear interesting all the same. And Michael Mendiola takes "Being Alive," one of Sondheim's more challenging songs, and delivers it like it was his own.
Special note also goes to Musical Director/Conductor Paul S. Katz and his exceptional players who sound great (and finally come out where we can see them, if only briefly).
Only a few hundred feet from its original home, SpeakEasy Stage has traveled miles to a bright, new, state-of-the-art facility. Happily, its first production is a fitting companion.
"Company" is at The Roberts Studio Theatre in the Calderwood Pavilion at the Boston Center for the Arts, 527 Tremont Street in Boston, through November 13. For information, call 617-933-8600.
Production Photos: Craig Bailey/Perspective Photo
-- OnStage Boston
10/30/04