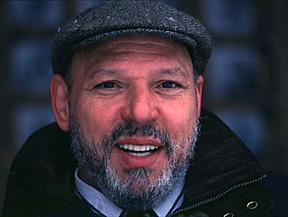 Award-winning playwright August Wilson, whose new play "Gem of the Ocean" will be presented September 24 - October 30 at The Huntington Theatre in Boston before making its Broadway debut, will host an informal discussion about his life and work at Roxbury Community College (RCC) on Monday, September 20.
The free event, which is sponsored by The Huntington, RCC and the Bay State Banner, begins at 7 p.m. in the College's Media Arts Building. The discussion is open to the general public.
(This special forum was originally scheduled for September 13 but has been moved due to a staffing change for The Huntington's production of "Gem of the Ocean." Original director, Marion McClinton, has withdrawn from the production for health reasons, and is being replaced by Kenny Leon, who recently helmed the multi-award-winning Broadway production of "A Raisin in the Sun." As such, the opening date of "Gem of the Ocean" has been delayed two weeks, from September 10 to September 24.)

Considered by many to be one of the greatest living playwrights, Wilson will talk about his work, including his unprecedented ten-play cycle about African-American life in each decade from the 1900s through the 1990s. The cycle began nearly two decades ago with the acclaimed play, "Ma Rainey's Black Bottom," and has garnered two Pulitzer Prizes, an Olivier Award and numerous Tony Awards for the plays and the actors in them. After his remarks, Wilson will answer questions from the audience.

"A Conversation with August Wilson" begins at 7 p.m.; doors open at 6:30 p.m. The Media Arts Building, located at 1234 Columbus Avenue on the campus of Roxbury Community College, is easily accessible via public transportation (Roxbury Crossing stop on the MBTA's Orange Line).
As seating is limited, organizers request that attendees RSVP by phone at 617-266-7900 ext. 1021, or via email to thehuntington@huntingtontheatre.org. More information is available at www.huntingtontheatre.org or www.rccmainstage.com.