Boston Theatre Works has announced it will present the Boston premiere of "Another American: Asking and Telling," written by and starring Marc Wolf, as the kick-off to a season of provocative political plays. Performances are set for October 7 - October 23 at the Boston Center for the Arts.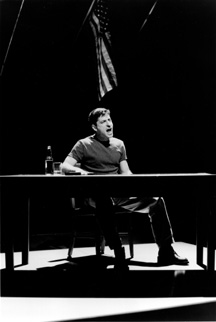 Directed by Tony Award-winning Joe Mantello, the one-man show gives voice to those silenced by the military's controversial "don't ask, don't tell" policy. Marc Wolf interviewed more than 200 gay and straight soldiers, veterans, advocates and critics to create twenty real-life characters who show every side of this divisive issue.
The result, both humorous and powerful, is a uniquely American tour of sexual politics, sanctioned discrimination and its very human cost. Wolf has received numerous awards for a portrayal that The New York Times described as, "nothing short of extraordinary… a tour de force!"

Wolf was awarded an Obie and was nominated for the Drama Desk and Outer Critics Circle Awards for his Off-Broadway performance of "Another American: Asking and Telling" at The New Group at the Theatre at St. Clements. He also presented the play at The Studio Theatre, Washington D.C., the McCarter Theatre in New Jersey and at The Mark Taper Forum in Los Angeles. He has performed the work in conjunction with panel discussions with representatives from Service Members' Legal Defense Network, LAMBDA Legal Defense and Education Fund, and Gay, Lesbian, Bi-Sexual Veterans of Greater New York.
Mantello has won wide acclaim and numerous awards for his direction of this past season's "Wicked" and "Assassins" on Broadway as well as the multiple award-winning "Take Me Out."

"Another American: Asking and Telling" launches a season at BTW dedicated to politically charged plays by America's greatest playwrights (as well as one prominent Brit). In January, BTW will present Jonathan Epstein as Prospero in Shakespeare's final play, "The Tempest." Jason Slavick's dynamic new production will unite Shakespeare's classic themes of love, loss, vengeance and forgiveness with contemporary American themes of justice, humanism and the use and abuse of power.

In February, BTW's Artistic Director Jason Southerland will direct the New England premiere of the new version of Tony Kushner's compelling new opus, "Homebody/Kabul," featuring Elliot Norton Award-winner Nancy Carroll. This sharp portrait of a world at odds with itself was described by The New York Times as, "passionate, juicy theater… a reminder of how essential Mr. Kushner's voice is in our dark times."

The mainstage season concludes in May with the Boston Theatre Works/SpeakEasy Stage Company co-production of "Take Me Out," the 2003 Tony Award-winner for Best New Play. Richard Greenberg's insightful work about the first professional baseball player to come out of the closet will be directed by SpeakEasy Artistic Director Paul Daigneault. "Take Me Out" is an ironic comedy about sexual politics that also serves as a love letter to America's favorite pastime. The production is presented in association with Broadway in Boston and will mark BTW's debut in the new Nancy and Edward Roberts Studio Theater at the BCA.

The Boston Center for the Arts is located at 539 Tremont Street. For tickets and information, all 617-933-8600 or visit www.BostonTheatreScene.com.