A Review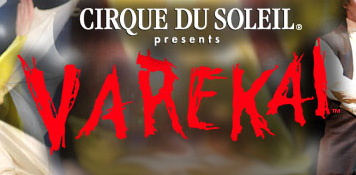 Soaring To New Heights
By R. J. Donovan
With vibrant music and a sensual fusion of drama and acrobatics, Cirque du Soleil has returned to Boston -- this time with "Varekai," meaning "wherever" in the language of the universal wanderers. More than 50 artists from 30 countries are represented in this year's innovative production.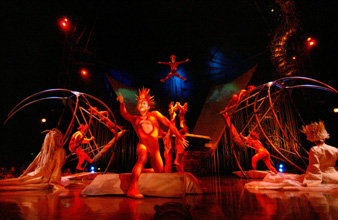 Set in a lush forest, "Varekai" is inspired by the mythical tale of Icarus who flew too close to the sun.
Here, the young man falls from the sky into a kaleidoscopic world filled with fantastic birds, bugs and assorted creatures. While his flight through the air may have been aborted, his journey on the ground is both surreal and amazing.
As Icarus, Anton Chelnokov is stripped of his wings but rises in the air in a fishnet that he uses to display an almost effortless strength. He sails to the peak of the yellow and blue tent and soars above the forest floor only to spiral down to earth once again.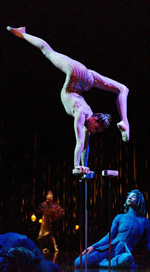 Icarus' betrothed is played by Irina Naumenko (left), a lithe and limber contortionist who balances on canes in a segment that (to her credit) is almost too painful to watch.
Throughout the vibrantly costumed two hour show, the audience is treated to any number of spectacular presentations. Three youngsters (Liu Xinxin, Wang ZhinXhen and Zhang Cheng) each twirl twin water meteors suspended from ropes. Four shimmering green females (Helen Ball, Cinthia Beranek, Juliana Countinho and Sophie Olfield) work a triple trapeze. And six tumblers (Stiv Bello, Roni Bello, Javier Santos, Pedro Santos, Oleana Durnyeva and Mariya Kanatnykova) engage in Icarian Games, involving one member of each team reclining back on a tipped board to wildly toss, twirl and spin a respective partner with his feet.
Dergin Tokmak offers a masterful solo ballet on crutches while Octavio Alegria juggles everything from boomerang-ing straw hats to ping pong balls.
Although all the performers are exceptional, one act is really quite unusual. Dressed in mirror-image black leather outfits, brothers Andrew and Kevin Atherton present an aerial act suspended from wrist straps. Whether gracefully soaring as one unit or presenting a mid-air reflection of one another, they are remarkable.
Comic relief is supplied by Jordi Deambulants and Joanna Holden. The duo works the crowd as the audience enters, returning during the first act as an Aladdin-like magician and his hapless assistant. Corny and incredibly amateurish, they're so awful, they're good. Deambulants returns in the second act as greasy lounge singer who can't seem to stay in his spotlight. At the conclusion of the number, we see the spotlight attendant is none other than Holden, who has victoriously ruined the act.
Saving the best for last, "Varekai" comes to an eye-popping finale with 13 Russian acrobats on two gigantic balancing-swings (top photo). They are not only propelled back and forth between the swings but fly up to the rafters only to be caught in huge spandex-like sails. It's a definite crowd pleaser.
Even the slightest detail is important in a Cirque du Soleil show and "Varekai" is no exception -- right down to the fireflies that float through the darkness and the pre-show sounds of water dripping in the rain forest. Production values are top notch throughout, with Eiko Ishioka's fanciful jewel-toned costumes and Nathalie Gagne's intricate make-up providing a treat for the eyes.
Written and directed by Dominic Champagne, "Varekai" is working its magic at Suffolk Downs through September 5.
"Varekai" is at Suffolk Downs off Route 1A in East Boston through September 5. For information, call 800-678-5440.
-- OnStage Boston
8/5/04